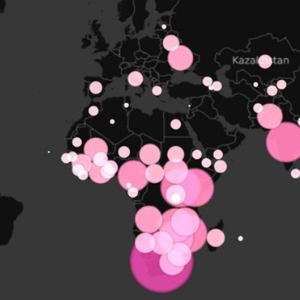 Mesmerizing maps show the biggest risks to humanity
06/06/2017
By Chris Weller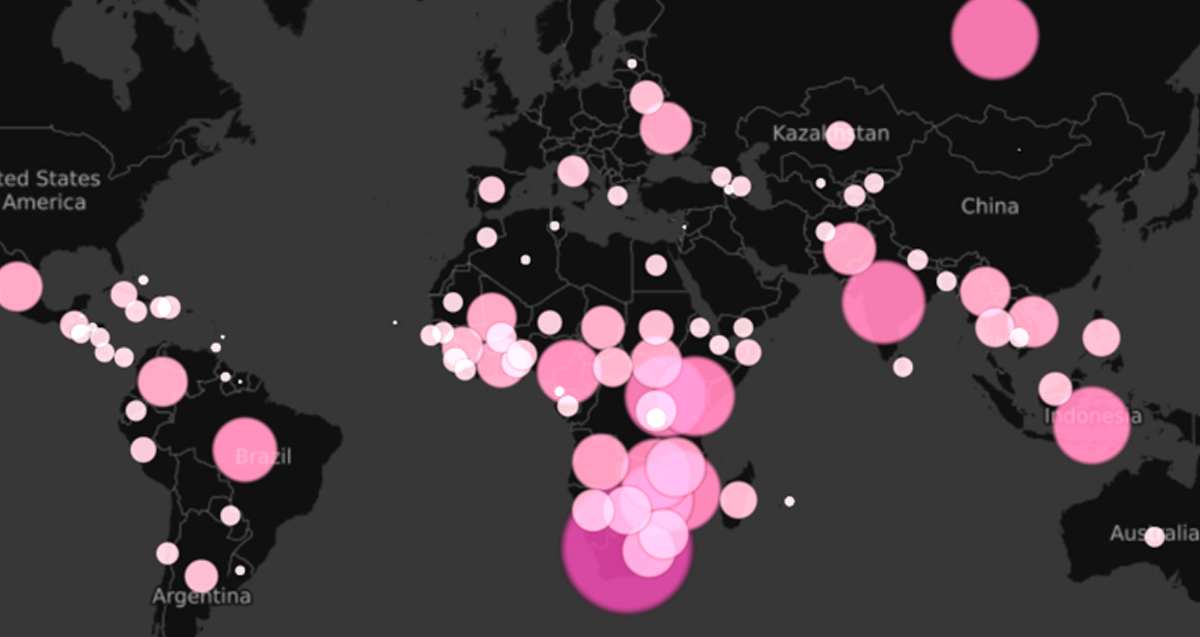 The world is unquestionably getting better, but there are still a raft of risks we face in the future.Earth TimeLapse, an interactive platform created by global security expert Robert Muggah and Carnegie Mellon University researchers, shows those risks in a new light.
The platform uses big-data sets from a number of sources, including the London School of Hygiene & Tropical Medicine and the National Oceanic and Atmospheric Association, to visualize humanity's most pressing challenges, like climate change, new cases of HIV infections, and displacement due to violence.
Here are some of the most mesmerizing maps in the collection.
Temperature anomaly events
One way to see signs of climate change is to look at how many temperature anomalies have taken place over the years. Scientists define anomalies on a scale of degrees. Any fluctuation is considered bad for maintaining a stable climate.
Timelapse marks stability in white, colder temperatures in blue, and warmer ones in red. The darker the color, the more extreme the temperature event.
Compared to the light blues and pale yellows of the late 19th century, data for 2017 show huge dark red portions indicating fluctuations of 10 degrees or more — a sign the globe is getting hotter, and less hospitable, with each passing year.
Global flow of refugees
In 2015, the Syrian refugee crisis became by far the biggest source of displaced persons. More than a million people have arrived in Europe, and a similar number in South Africa.
The moves reflect ongoing threats to global security in some of the most fragile countries in the world.
Global terrorist attacks
Earth Timelapse's data for terrorism go back all the way to 1984. The larger the red circle, the greater amount of terrorist activity in a given area.
In 2015, unrest in Nigeria and Cameroon led to thousands of deaths caused by Boko Haram forces opening fire on civilians. Bombings in Turkey and Yemen also produced hundreds of deaths.
While terrorist acts represent a small cause of death relative to disease, the fact they are political in nature can undermine developing governments and threaten stability. The good news: Terrorism worldwide continues to decrease over time.
Fires at night
Data from 2016 showed just how much the world was burning — and spewing stored carbon back into the atmosphere. Earth Timelapse offers two years' worth of data, which shows consistent burning in sub-Saharan Africa, South America, and south Asia.
In the US, oil refineries and power plants lit up North America alongside the wildfires of California.
In sub-Saharan Africa, Muggah says most of the fires are due to commercial logging operations that slash and burn thousands of acres of forest.
New HIV infections
Timelapse shows 2015 data for how many new people are infected with HIV each year. The lightest dots indicate roughly 1,000 new cases. The darker dots indicate roughly 100,000 new cases.
The late 1990s had the worst HIV pandemics in history, peaking at 3.47 million new infections in 1997. In 2014, rouhgly 2.1 million were newly infected. In total, 37 million people live with HIV/AIDS around the world, government data show.
Roughly 8% of those infected are younger than 15 years old. The ongoing fight to develop more effective treatments, and hopefully a cure, puts tremendous strain on global resources.
Urban fragility
In 2015, the Igarapé Institute ranked the world's cities based on their fragility. It assigned a score to each city, from 1.0 to 3.1. Higher scores meant greater fragility.
The most fragile cities were mainly in Africa and the Middle East, in countries like Somalia, Afghanistan, and Iraq.
"All cities are fragile to some degree," Muggah tells Business Insider. But what separates a city like New York from one like Mogadishu, Somalia is generally the extent to which local government delivers basic services to its citizens.
Fragile cities don't offer equality, safety, affordable access to health care, or adequate resources during environmental disaster.
Obesity
Obesity is a risk factor for a slew of fatal issues, including heart disease and stroke. Around the world, 2013 data show countries are tending toward unhealthier lifestyles.
The US, parts of Africa, and Australia all show obesity rates of 30% or more.
Nearly 30 years ago, there was just one country in that range. Most fell at 15% or below.