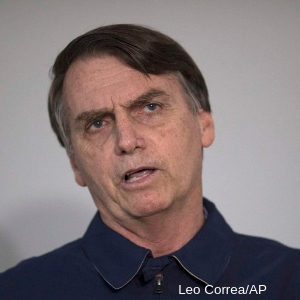 Who is Jair Bolsonaro, the man likely to be Brazil's next president?
By Anthony Faiola and Marina Lopes
Published originally on The Washington Post
Brazilians are voting Sunday in a presidential election that's captured global attention largely because of one man: Jair Bolsonaro. The 63-year-old far-right former army captain resoundingly won a first round earlier this month, and he maintains a double-digit lead over his leftist rival, Fernando Haddad, in opinion polls heading into Sunday's runoff.
Known for bombastic quips demeaning women, gays and people of color, Bolsonaro has been denounced by everyone from Madonna to former Brazilian president Fernando Henrique Cardoso.
But what are Bolsonaro's positions on the key issues confronting Brazil? Here's a look at his stance on four key areas: the environment, the economy, crime and democracy.
Environment
Environmentalists breathed a sigh of relief this week when Bolsonaro backed away from his earlier threats to follow in the footsteps of President Trump and pull Brazil out of the global Paris accord to fight climate change, as long as Brazil retains sovereignty over indigenous lands and the rain forest. He has also reconsidered his initial vow to eliminate Brazil's Environmental Ministry. But that doesn't mean Bolsonaro has suddenly become the Lorax.