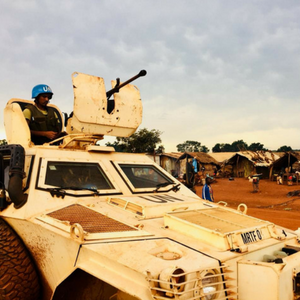 The U.N. Can't Bring Peace to the Central African Republic
But it can help solve local conflicts. Here's how.
16/08/2018
By Robert Muggah
Originally published on Foreign Policy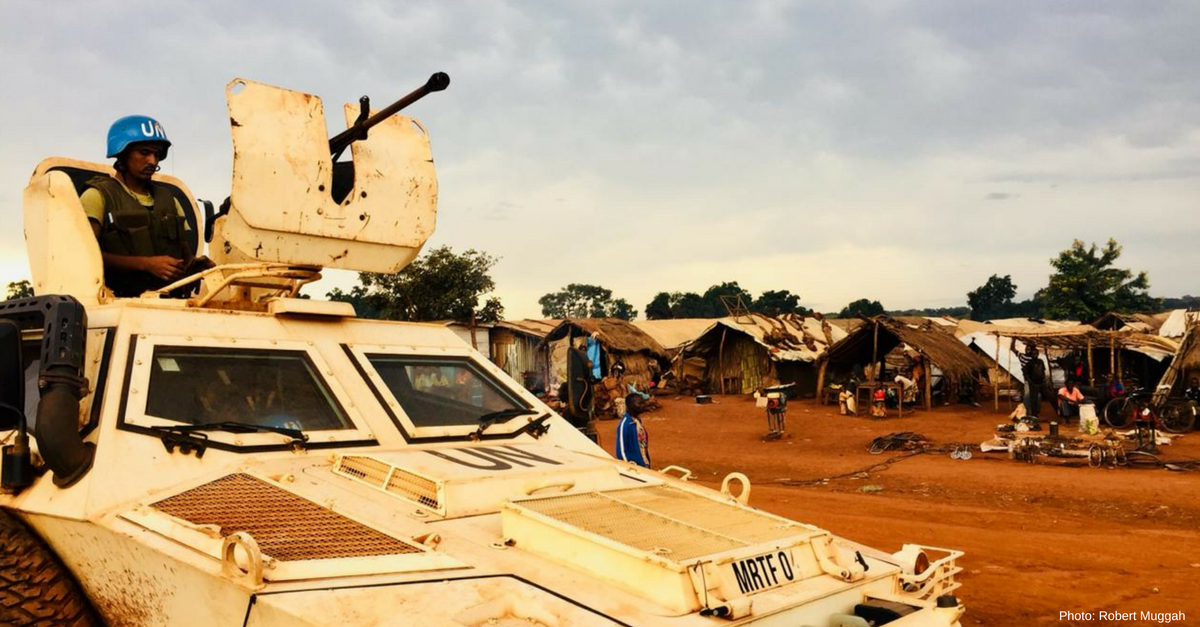 BANGUI, Central African Republic—To locals, he is known simply as "Force." The moniker is appropriate. In a country teeming with warlords—feared and admired in equal parts—Nimery Matar Jamous stands out. Since late 2013, he has dominated PK5, a densely populated neighborhood in the third district of Bangui, the capital of the Central African Republic. While claiming to represent the interests of the local Muslim majority in the predominantly Christian city, Nimery does more to extort and harass residents instead.
Nimery is also a thorn in the side of the latest U.N. stabilization mission, MINUSCA, aimed at dismantling the CAR's many armed groups. Following a U.N. threat to disarm Nimery's group, he warned in late March that "if the U.N. blue helmets want a war, they only have to tell residents to leave the area and we will defeat them."
In an April pre-dawn raid, MINUSCA and the Central African Armed Forces moved into PK5 on a joint disarm-and-arrest operation; hours of heavy gunfire resulted in dozens of casualties among the peacekeepers, militiamen, and civilians in the Muslim enclave. Although the U.N. mission said it was responding to pleas for help from neighborhood residents, the operation backfired spectacularly. After troops began confiscating firearms, rumors spread that MINUSCA's real intent was to disarm all Muslims, leaving them vulnerable to reprisals. Locals dumped 17 corpses at the base of the U.N. compound in Bangui, a bloody indictment of the organization's apparent impotence. Social unrest along the ethnic and political fault lines that divide the city and country soon followed. In the ensuing clashes, one peacekeeper was killed and eight were wounded.

Worse was to follow. Within weeks, gunmen attacked a Catholic church, reportedly killing 16 people, including a priest, whose body protesters carried toward the presidential palace. Christian rioters burned a mosque in retaliation. Meanwhile, leaders of Muslim armed groups convened in northern CAR and threatened a major attack on Bangui. MINUSCA soldiers massed around Bangui's key road junctions to prevent fighters from entering the capital. Months later, PK5 still experiences near-weekly bloodshed. Nimery, for his part, is still at large.

Organized violence in the CAR, as in other war-torn countries, increasingly fuses legitimate political grievances with naked economic opportunism. Most armed conflicts in the 21st century are low-intensity and protracted, involving multiple armed groups competing for power and profit. Distinguishing combatants from civilians is exceedingly difficult, and such wars are often made even more complicated by the participation of armed factions from neighboring countries. These conflicts are devilishly hard to contain, much less resolve.

The CAR's ongoing civil war, for example, was launched in 2012 by the Muslim-majority Seleka coalition (seleka means "alliance" in Sango, a local language), a loose alliance of northerners, Chadians, and Sudanese. The Seleka militants accused then­-President François Bozizé of reneging on peace agreements signed in 2007 and 2008, and had promised amnesties and cash transfers for rebel fighters; they swiftly deposed him in 2013. Although the initial phase of the conflict was relatively short, it was brutally violent: Between 2012 and 2014, more than 5,000 people were killed and another 1.1 million—one-fifth of the country's population—were displaced.

After taking Bangui in January 2013 and ousting Bozizé that March, the CAR's first Muslim president, Michel Djotodia, officially dissolved the rebel alliance in September. Today, at least 14 armed groups still contend for territory. Most of them are affiliated with the so-called anti-balaka (which may refer to "balle AK"—AK-47 bullets), who are primarily Christian and animist self-defense and paramilitary groups operating mainly in the west and south, and the ex-Seleka in the north and east. There are many other armed factions who are not part of the official peace process but still pose a risk, including that led by the Force himself. In short, although he holds on to a valuable piece of real estate in PK5, Nimery is just one thuggish warlord among many.
***
Over several decades, the U.N. has thrown just about everything it has at the CAR's problems. The country has seen almost a dozen peacekeeping missions come and go, more than any other country on earth, with precious little to show for it.

Back in 1998, the U.N. Security Council authorized a different mission, MINURCA, to keep the peace in the wake of a succession of coup attempts. The mission was replaced by a peace-building operation, BONUCA, in 2000. Seven years later, the U.N. established a regional mission—MINURCAT—to protect civilians in both the CAR and Chad. Soon after, in 2010, yet another integrated peace-building office, BINUCA, was inaugurated. When civil war restarted in 2012, France and the African Union rallied two separate missions, FOMAC and MISCA. And in 2014, the U.N. launched the current effort, MINUSCA, which subsumed BINUCA and MISCA. With virtually no government infrastructure or services outside the capital, the latest mission has its work cut out for it.

The current mission is, at least, the largest to date, involving the deployment of over 14,700 military, police, and civilian personnel. MINUSCA has a robust mandate to protect civilians and dismantle armed groups, but it has been wary of resorting to military power to avoid making a bad situation even worse. And as in so many other modern wars, the U.N. is itself a target; since MINUSCA began, 63 blue helmets have died trying to enforce peace. The country has a reputation for being one of the most dangerous for humanitarian operations, and it is rightly deserved. More aid workers are targeted each year in the Central African Republic than in Afghanistan, Iraq, Somalia, or Syria.

A patchwork of peace agreements put forward by the various U.N. missions, regional organizations, and international nongovernmental organizations has rarely held longer than a few years. A high point came in 2015, when a new deal was struck between the government and 14 armed factions. Backed by international partners, the Bangui National Forum generated commitments from all parties to the conflict to dispose of their arms, renounce fighting, and free child soldiers. The forum also recommended changes in the way the CAR treats minority groups, the expansion of government presence in under-serviced areas, and reforms to the security sector and judiciary.

Following a visit to Bangui for the opening of the forum, the chairman of the U.N. peacebuilding commission for the CAR called the conference an "opportunity to mark the beginning of a new era" for the country. But that optimism quickly dissipated. Some armed groups were unwilling to make concessions, and there was no way to credibly enforce the agreement among the rest of them. It is understandable, then, that yet another peace deal—signed in 2017 with 13 rebel groups—was met with skepticism.

It is perhaps too much to expect that some grand bargain could bring peace to all of CAR—and could settle all its highly localized and layered sub-conflicts. More than two-thirds of the country is controlled by militias. Although the government recognizes only the armed groups that participated in the 2015 summit, experts at the Enough Project estimate there could be hundreds of militias—with more springing up every month. Anti-balaka and ex-Seleka are thought to be franchising their operations for monetary gain. No wonder: Ex-Seleka groups are believed to collect up to $7 million a year for illegal taxation of cattle herders and truck drivers. And U.N. officials privately concede that the diamond and gold smuggling business likely run in the tens of millions of dollars annually. Meanwhile, despite an abundance of mineral and oil resources—mostly still untapped—about 75 percent of the population lives in extreme poverty.
***
In perhaps a last bid to right the situation, the U.N.'s ambitious plans to disarm, demobilize, and reintegrate 4,200 combatants are expected to be rebooted in the coming months. MINUSCA intends to start with the anti-balaka militia in the western parts of the country, and then gradually apply pressure on the better organized anti-Seleka holdouts in the north and east. For the first time in years, there is guarded optimism that the United Nations might have some success. Part of the reason is that the U.N. and its partners have quietly turned their focus locally, and those initiatives are finally bearing fruit.

Specifically, a series of local peace agreements, some of them facilitated by the U.N., appear to be paying off. Far from the international spotlight, community-mediated deals are typically hatched by traditional and religious leaders, women's organizations, municipal authorities, and an assortment of international and community-based associations. These efforts focus on the specific religious and ethnic dynamics fueling hostilities, such as local nonaggression pacts between armed groups and deals to promote reconciliation. While far from perfect, they are worthy attempts to keep the peace where state presence is limited and when so many regional and national efforts have failed.

The U.N. has also rolled out dozens of community violence reduction projects in tense areas. Rather than focusing narrowly on hardened combatants, their goal is to keep young impressionable men—would-be spoilers—from joining criminal gangs and politicized armed groups in the first place. Instead of providing recipients money in exchange for their firearms, the U.N. and its community-based partners have ramped up jobs-based schemes in the most volatile communities. Many of these projects involve restoring public goods, including schools, clinics, bridges, roads, as well as churches and mosques. Beneficiaries receive a combination of training in agriculture, animal husbandry, and masonry, in addition to funds to set up small businesses. Together, these efforts reinforce the tangible benefits of peace in areas where war has been the most lucrative business in town.

More than 16,000 people have already participated directly in community violence reduction efforts since such projects started in 2015. And with major cash injections probable from Canada, the European Union, and World Bank, the number of beneficiaries could double by the end of next year. Although these efforts are aligned with national development plans, they are planned, executed, and monitored by the communities themselves. This gives them a stronger chance of succeeding, particularly in those areas where the government has limited purchase.

Perhaps such local schemes to disarm and rehabilitate young citizens will eventually provide the foundations for a lasting peace in a country that has, since its independence in 1960, lurched from crisis to crisis. Of course, the only way to end war for good will be a comprehensive resolution to its many armed conflicts through inclusive political arrangements that adequately represent the CAR's many distinct population groups. Christian governments will have to deliver at least rudimentary services to the population, particularly in Muslim-majority areas. And Muslim groups will have to participate in the system rather than attacking it. But for now, small, local shorter-term improvements might be all that is possible.

MINUSCA is already taking steps to explicitly connect local peace deals and community violence reduction plans to a national strategy. But the U.N. could do more, bulking up its field offices to provide political cover to local mediators and military support where necessary to deter violence entrepreneurs. All this is worth trying. The CAR is at the epicenter of a regional network of diamond, gold, uranium, arms, cattle, and timber smuggling. Its anarchy creates a safe haven for radicals from across the region, and violence in its capital affects thousands. If this failed state isn't stabilized soon, criminal warmongers like Nimery will thrive and the country's nightmare will continue without end.