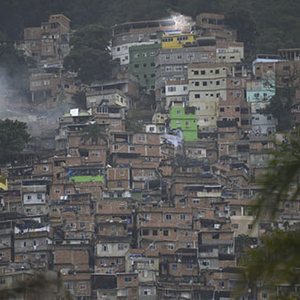 Police operation in Rio favela leaves at least eight people dead
Allegations that some of the victims were innocent residents executed in a revenge mission after a police officer was killed there
25/03/2018
Dom Phillips and Júlio Carvalho
Originally published on The Guardian
A police operation in a Rio favela has left at least eight people dead amid allegations that some of the victims were innocent residents executed in a revenge mission after a police officer was killed there this week. Police said they were attacked by drug gangsters.
The bloody operation in the Rocinha favela, located near postcard beaches like Leblon, came six months after the army briefly occupied the favela following a week of gun battles between rival drug gangs, and five weeks after president Michel Temer put the military in charge of Rio security .
The incident came eleven days after the assassination of Rio councillor Marielle Franco who had denounced recent killings of favela residents blamed on the city's notoriously lethal police. In 2017, according to official figures, 1,115 people were killed as a result of "opposition to police intervention" in Rio state.
Residents said one of the victims of Saturday's operation, Matheus de Oliveira, 19, had no involvement with the drug trade. He was in a group that did waltz presentations dressed in replica navy uniforms.
On Friday night, he and 11 others performed at a 15th birthday party nearby, said Alexander Izaias, 38, who lives in Rocinha and has run the project for 15 years.
"Drug traffickers don't dance waltz," Izaias said.
After the performance, de Oliveira and one of the other dancers went to an all-night 'bailie funk' party in a sports court near the favela's entrance, he said. When police arrived shooting around 5.30am, the two men ran in different directions – but de Oliveira was shot in the back and died.
"What most revolts me is the way he was killed," said Izaias, describing a happy, fun-loving, normal young man. "It is an enormous loss."
Relatives of another victim, Júlio de Lima, 23, told Rio's Extra newspaper site that he was going to work at a steakhouse when he was shot and killed.
The former girlfriend of one of the victims, speaking anonymously for fear of reprisals, said he was a drug gang member and was shot in the head while sleeping near a drug sales point.
Another resident said the death toll could be higher. "There are still wounded people in the alleys, it's estimated that there around 11-14 deaths and not eight as the police said," the resident said, talking on condition of anonymity.
In a statement, police said armed criminals opened fire on them as they patrolled the community. Six people had been killed and an AK-47 rifle, six pistols and three grenades were seized. All the dead were gang members, they said.
"Unfortunately criminals from Rocinha insist in wanting to confront the police," Major Ivan Blaz, a police spokesman, told TV Globo, adding that 100 gang members had been arrested and 48 killed there since last September.
TV Globo reported that homicide detectives had interviewed officers involved and said four of the dead men and criminal records, three did not and one was yet to be identified. Photographs circulating on WhatsApp showed bloodied bodies slumped in alleyways and on the back of a pickup. Some showed signs of apparent execution with bullet wounds in the back or the head.
Some residents believe Saturday's operation was a revenge mission after a police officer was killed in Rocinha on Wednesday, which Major Blaz denied. According to Rio's Igarapé Insitute, a policy think tank, 134 police officers were killed in Rio state in 2017.
César Muñoz, a senior researcher at Human Rights Watch in Brazil, said he was concerned that tweets from police saying they took injured criminals to hospital left it unclear whether they were dead on arrival or died later.
"We have documented many cases in the last decade in Rio de Janeiro in which officers delivered corpses to the hospital as a means of destroying crime scene evidence and hampering with the investigation," he said.