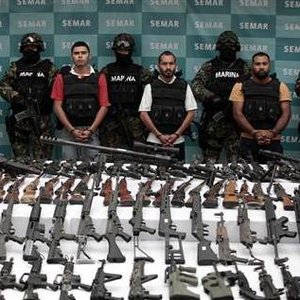 Obama's executive action on guns gets warm welcome in Mexico
January, 2016
Mexico has long wanted more help in countering the flow of guns across the border. Background checks could help, many say.
MEXICO CITY — President Obama's executive action on gun control may have reenergized a polarizing debate in the US, but it offered cautious hope in Mexico this week.
Hundreds of thousands of legally purchased and illegally transported guns move from the US into Mexico each year, according to both governments, and make up the majority of firearms confiscated from crime scenes here.
Analysts say the expansion of background checks could disrupt the flow of trafficked guns that play a central role in drug trafficking and the overall homicide rate. More than half of the nearly 20,000 homicides in 2014 were due to gun violence, according to the national statistics agency INEGI.
Just how many US guns find their way into Mexico is difficult to pinpoint, but the US Bureau of Alcohol, Tobacco, Firearms, and Explosives estimates that roughly 70 percent of illegal guns here originate in the US, while the Mexican military has put that figure closer to 90 percent. One 2013 academic study published in the journal of Economic Geography found that nearly 213,000 US guns funnel into Mexico each year.
"It may be coming from a national agenda, but it will have positive consequences for Mexico," says Javier Oliva Posada, a political scientist from the National Autonomous University in Mexico. "One measure won't solve everything, but it's certainly a step in the right direction" when it comes to US-purchased guns smuggled south of the border.
Expanding background checks to gun shows and online sales, as well as overhauling the overall system to include data across jurisdictions, could diminish the ease with which guns are pushed across the border. Straw buyers – people who legally buy guns in the US before handing them off to individuals who might have a criminal record prohibiting them from purchasing a gun – could find their operations more difficult, as could those who intentionally purchase weapons from sources who in the past weren't required to run checks on criminal records.
To Maureen Meyer, a Mexico specialist at the Washington Office on Latin America, the move represents an important first step.
"If they are assigning additional ATF agents and expanding their ability to investigate, and expanding background checks, that could limit the possibility of traffickers or organized criminals going to gun expos or unlicensed dealers in the US … [and] could expand the possibility of taking down networks into Mexico."
Many in Mexico acknowledge that they have to do more on their own front. But the country, which has strict controls on the sale of firearms and ammunition, has long pleaded with the US to lend a hand in halting the illegal flow of guns. In 2010, then-President Felipe Calderón addressed a joint session of Congress on the issue.
"I understand that the purpose of the Second Amendment is to guarantee good American citizens the ability to defend themselves and their nation," Mr. Calderón said. "But believe me, many of these guns are not going into honest American hands."
Cheap assault-style weapons available in the US and lenient US gun laws are cited in a 2014 Mexican government study as the main reasons for the high number of weapons smuggled here.
"There's something like 54,000 federally licensed gun shops in the US," says Robert Muggah, research director at the Brazil-based think tank, the Igarape Institute. "That's more than all the McDonald's outlets in the world (36,000) … and compares to just one gun store in all of Mexico," says Mr. Muggah, a coauthor on the 2013 study that estimates firearm trafficking across the US-Mexico border.
It's not just illegally imported guns that are at issue. As Mexico's war on organized crime ramped up a decade ago, so too did legal military imports of weapons and ammunition from at least 50 countries, with the US topping the list. At least half of the $300 million in military-grade weapons imported by the Mexican government from the US over the past 55 years arrived after 2000, according to UN customs data. And studies show that globally – from Iraq to Afghanistan to Mexico – US military assistance can be "lost" or "leaked," ending up in criminal hands.
"The harder it is to get a gun in the US, the fewer guns will end up in Mexico," says Paulina Arriaga Carrasco, executive director of [Des]arma, a Mexico-based NGO that focuses on the arms trade between the US and Mexico. "This will not only affect the US."
Whitney Eulich, The Christian Science Monitor