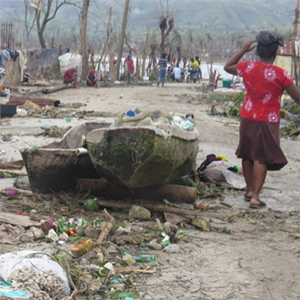 Less than 15% of Haitians knew about Hurricane Matthew before the disaster
A new survey from the Igarapé Institute highlights how livelihoods were affected
June 8th, 2017
Haiti has been battered by waves of natural disasters over the past few years. Hurricane Matthew – which struck the country in October 2016, was especially devastating. The Igarapé Institute research team led surveys of close to 3,000 people immediately after the earthquake in October 2016, again in December 2016 and February 2017. It's the most comprehensive accounting of how Haitians were affected by hurricane Matthew.
A new report – Haitian Women's Experiences of Recovery from Hurricane Matthew – summarizes the results. According to the lead author, Athena Kolbe, the short and medium-term impacts were far-reaching. "Over 67% of Haitians were made homeless or were forced to use temporary housing following the cyclone", says Kolbe. Two months after the storm, between 27-36% of Haitians had yet to return to their homes. Women were disproportionately affected by the disaster.
The Igarapé Institute assessment found that the cyclone severely affected the livelihoods. "About 85% of people dependent on productive land said their plots/harvest yields were severely damaged, and almost half of all households said they had insufficient tools/equipment to continue their business", declares Kolbe. This had severe knock-on effects on the proportion of household budgets devoted to food purchases.
The surveys also demonstrate how households were relying heavily on survival strategies to cope with food insecurity. Many of them had to consume less expensive food or borrow food from family or friends. They also reduced levels of food consumption and the frequency of meals. We also detected how this skewed food prices, further exacerbating vulnerability.
Lack of information harmed Haitians before and after the hurricane
One of the most damning discoveries was that many citizens lacked access to adequate information before or after the hurricane. According to co-author and research director at Igarapé Robert Muggah, "more than half of all respondents said they had no idea a hurricane was coming." Just 15% of respondents heard about the impending storm from radio, school and church announcements. "Just 5.7% of households evacuated before the cyclone made landfall", says Muggah.
As the Institute has found in previous assessments in Haiti, the reach of assistance was also extraordinarily limited. A comparatively modest number of Haitians claimed they received international or domestic assistance. Less than 1% of Haitians claim that emergency assistance had been distributed in their village or neighborhood. Not surprisingly, it was more common in urban settings than in mountainous and hilly areas.
Fortunately, criminal incidence was described as infrequent: less than 1% of respondents claimed to have been victimized, while 4% said that a household member had been a victim in the previous four months. The most commonly reported forms of crime included threats of violence, physical assault, and property crime, with women disproportionately affected.
For interviews with the authors and more information, contact  ana@igarape.org.br or caio@igarape.org.br.
Other Igarapé Institute's publications about Haiti:
Assessing Haiti's Electoral Legitimacy Crisis – Results of a 2016 Survey
Mortality and Morbidity Associated with Haiti's Chikungunya Epidemic
After the Storm: Haiti's Coming Food Crisis
An Empirical Treatment of Haiti's Tourism Potential
***
Full citation for the article: Kolbe, A., Puccio, M., Joseph, S. M., Muggah, R., and A. Joersz (2017) "Haitian Women´s Experiences of Recovery from Hurricane Matthew", Strategic Paper 26, Igarapé Institute, June, Available on: https://igarape.org.br/wp-content/uploads/2017/06/NE-26_Haitian-Hurricane-05-06.pdf
***
About Igarapé Institute
The Igarapé Institute is an independent think and do tank devoted to evidence-based policy and action on complex social challenges in Brazil, Latin America, and Africa. The Institute's goal is to stimulate debate, foster connections and trigger action to address security and development. Based in the South, the Igarapé Institute undertakes diagnostics, generates awareness, and designs solutions with public and private partners, often with the use of new technologies. Key areas of focus include citizen security, drug policy, cyber security, building peace and safer cities. The Institute is based in Rio de Janeiro, with personnel across Brazil, Colombia and Mexico. It is supported by bilateral agencies, foundations, international organizations and private donors.