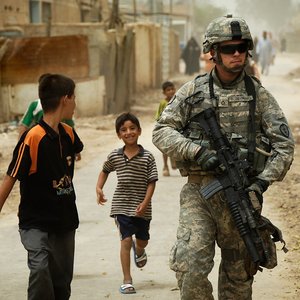 6 lessons from companies operating in war-torn communities
Virtually every government, business and civil society organization around the world has to contend with some kind of fragility. But fragility has uneven effects. When people and institutions have the tools and capacities to manage instability, its impact can be minimized and managed. Yet people living in societies affected by armed conflict, organized crime and terrorism often face acute challenges doing so.
Regardless of people's ability to cope and adapt, fragility, conflict and violence are expensive. They have tremendous direct and indirect effects on the global economy. Supply chains can be upended. Human, social and financial capital can become depleted. The rule of law can be undermined. The financial cost of war alone is estimated to be as high as $14.3 trillion, though no one knows for sure.
The human cost is also immense. Although difficult to measure with precision, groups such as the World Health Organization (WHO) estimate that over 1.3 million people die every year as a result of war and crime. More than 60 million people are forcibly displaced from their homes, some crossing borders as refugees, while others are stuck in their homelands, unable to leave. And the problem has taken a frightening turn for the worse over the past few years.
These global trends underscore the urgent need to develop more innovative approaches to tackle fragility, conflict and violence. It is increasingly clear that traditional security and development measures alone – including peacekeepers and humanitarian aid – are insufficient to help societies recover and build resilience in the face of complex challenges. New solutions must harness public-private partnerships and a more proactive role of the business sector.
There are real opportunities for international and local private businesses in some of the world's hot spots. In countries as wide ranging as Afghanistan, Bangladesh, Burkina Faso, the Democratic Republic of the Congo, Nigeria and Uganda, there are positive examples of big, medium and small enterprises making a difference in war-torn communities. These pioneer firms are not only making a return on their investment, they are seeking to build stronger communities. Private investment is not a panacea. Yet learning from good practice is vital to encourage responsible investment.
The World Economic Forum's Global Agenda Council on Fragility, Conflict and Violence started a conversation with 10 global companies and organizations to better understand what works (and what does not). The firms operate across multiple sectors – oil and gas, mining, agriculture, consumer and manufactured goods, and financial services – to explore how they could help foster more stable, inclusive and prosperous societies in conditions of extreme adversity. Just as important, we wanted to learn how they did so responsibly without doing intentional harm. The lessons have been collated in a report, but here are six important ones that stand out.
First, most companies said that a "positive business case" is essential for successfully investing in fragile, conflict and violence-affected environments. Altruism alone is insufficient. The development of a coffee export market by Nespresso in South Sudan, the establishment of a mobile telecoms market by Roshan in Afghanistan, and the redevelopment of abandoned communications infrastructure in the Niger Delta by Chevron contributed to their bottom line, while also generating new employment opportunities and increasing local tax revenue.
Second, a functioning state with working institutions is a sine qua non of sustainable investment. Where possible, companies should work to help reinforce stable public systems rather than circumvent them. This means making investments that build resilient local institutions and markets. It also requires a high level of coordination, as the work of Mercy Corps with Ugandan farmer collectives showed.
Third, many private companies have a valuable skill-set and portfolio of experiences that can support governments that are shattered by fragility and conflict. Businesses often understand how to maximize financial inclusion for vulnerable people, access global value chains for smaller producers, develop jobs and apprenticeships for young people, and improve the quality of service delivery to marginal areas. Even so, companies must be hyper aware of the local context, tolerate a high threshold of risk, and maintain the highest ethical standards respecting national and international laws. Indeed, companies need to be careful not to reproduce instability unintentionally.
Fourth, there are considerable opportunities for public-private partnerships to kick-start growth. To do so, businesses need an open mind and governments need to invest in creating enabling conditions – including laws and infrastructure – to foster productive collaboration. Local civil society groups and NGOs are vital to ensuring transparency and forging inclusive partnerships. And donor organizations are essential for supplying the necessary political and financial guarantees to build confidence for business in high-risk settings. We see a mature conversation evolving between these entities in recent years, including as part of the formulation of the new Sustainable Development Goals in 2015.
Fifth, local businesses must be part of the solution. The local private sector is the engine of economic activity and growth. At least 70% of all jobs are generated by small and medium enterprises, and many of them are exceptionally resilient in fragile, conflict-affected and violent settings. Heritage Touch in the West Bank, for example, has played an important role in supporting local businesses invest in (and recruit from) local talent pools.
Sixth, businesses can help foster transparent and efficient management of revenues generated from natural resources. It is true that some businesses have profited illegally in some settings. But initiatives such as Philips' Conflict Free Tin Initiative and Chevron's contribution to a Global Memorandum of Understanding Model in Nigeria offer some ideas on how the private sector can play a more constructive role in encouraging governments to use natural wealth for the good of their people and countries.
There are multiple entry-points for businesses in fragile and war-torn societies. Major transformations under way around the world – from digital connectivity to the sharing economy – mean that the costs and risks of doing business in many parts of the world are coming down. Rather than castigate or shun them, we need to better understand the constraints and opportunities experienced by companies and promote creative and practical solutions to help them support societies in fragile settings. If stability is to be assured globally, enlightened business leaders need to consider not just their bottom lines, but also how they can positively contribute to communities ravaged by violence.
Por Robert Muggah e Elissa Golberg
Artigo de opinião publiado em 1 de março de 2016
World Economic Forum