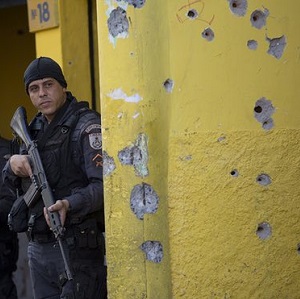 Killings by Brazilian police branded a human rights crisis as body count rises
Maio, 2017
The Brazilian authorities have been accused of turning a blind eye to a human rights crisis following a sharp rise in the number of killings by police.
In a report published on Thursday, Amnesty International said Brazil had not done enough to end rights violations. Since 2012, rates of police-led killings have risen sharply. Last year, 920 such deaths were documented in Rio de Janeiro alone, compared with 419 in 2012. In the first two months of this year, 182 people have been killed by police in the city, a 78% increase on the same period in 2016.
"Since the last review at the United Nations [in 2012], Brazil has not taken enough steps to tackle the shocking levels of human rights violations across the country, including soaring police homicide rates that leave hundreds of people dead every year," said Jurema Werneck, executive director at Amnesty International Brazil.
The UN is set to review Brazil's human rights record on Friday. The country has the highest number of homicides in the world, with figures reaching almost 60,000 in 2015. The majority of victims are young black men. In the same year, police in Rio de Janeiro were responsible for one in every five killings. In São Paulo, it was one in four.
Robert Muggah, research director of the Igarapé Institute, a security and justice thinktank in Rio, said: "Unfortunately, police violence here has been a tragic reality for some time."
Muggah attributed the increased violence of recent years to a combination of the military police being trained in aggressive tactics, an organisational culture that tolerates high levels of force, and the economic and political crisis in Brazil, which he said has led to "a deep crisis of leadership".
"You have a deeply distressed and exasperated population who see the police as an enemy, not as a servant to the pubic good. This creates a very antagonistic relationship. It's worsened by the routine egregious use of force caught on film," he said.
The result, said Muggah, is "a change in the perception of insecurity of Rio", with taxi drivers refusing to go to particular parts of the city, people bearing arms openly in the street and evidence of increasing numbers of people being killed in summary executions, vigilante attacks and by stray bullets.
Police are also being killed in growing numbers in Rio de Janeiro. In 2016, 142 police were killed in the line of duty, a 30% increase on the previous year, and the highest number since 2004 when 191 officials were murdered, according to the Igarapé Institute.
Brazil's Congress is debating a statute that would loosen restrictions on bearing firearms.
The Amnesty report also raised concerns about violence in rural areas relating to conflicts over land. In 2016, the Land Church Commission recorded 61 murders and 74 attempted murders related to conflicts over land and natural resources, the second highest such numbers in 25 years.
"Very little has been done to reduce the number of homicides, to control the use of force by the police, or to guarantee indigenous rights as claimed in Brazil's constitution. UN member states must make clear to Brazil that this has to change," said Werneck.