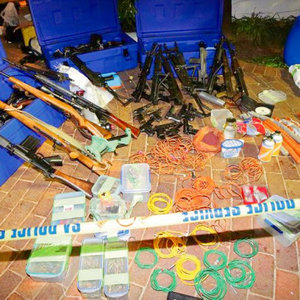 Give Gun Amnesties a Chance
March, 2015
SA can learn from Brazil, where amnesty campaigns for gun owners have yielded successful results
ROBERT MUGGAH
South Africans will not easily forget the murder of Bafana Bafana captain Senzo Meyiwa in October last year. As terrible as his death might have been, he was one of more than 17 000 South Africans murdered last year, most of them at the barrel of a gun.
And while almost 50 South Africans are killed violently every day, there is still no clear consensus on how to get the issue of firearms under control.
South Africa is not the only country affected by the number of gun homicides.
Many countries across Africa and the Americas are experiencing soaring murder rates. Violent crime persists despite strict gun laws. A recurring question is whether getting guns off the street and out of the home reduces violent crime.
Not surprisingly, there is an even split between gun rights advocates and gun control activists. Gun enthusiasts are convinced that more firearms translate into less crime, even though this is not entirely supported by the evidence. Those in favour of tighter firearms regulations believe that checks on gun possession are essential to make people safer.
These debates are heating up in South Africa as the number of gun-related homicides increase. With a two-day firearms summit on Tuesday and Wednesday and a new Firearms Control Amendment Bill hanging in the balance, it is worth considering what has worked in other parts of the world.
A cursory review of gun legislation in North and South America reveals that gun laws alone are not enough.
Regardless of whether a government has stiff firearm laws or lax legislation, countries such as Brazil, Colombia, Mexico and the US tend to share high rates of gun violence.
Although there are some exceptions, legislation alone does not necessarily guarantee public safety.
Symbolic dividends
One measure that generates a tangible reduction in gun violence is a firearms amnesty. Amnesties are most effective when they are coupled with firearm legislation, especially restricting the open carrying of weapons and their access to high-risk people.
By reducing the number of legal and illegal guns in circulation, amnesties decrease the likelihood of someone getting shot.
When adopting firearm-related interventions, it is worth recalling how gun violence affects people differently. Men are most often murdered away from home. Women, children and older adults are most often killed in their own houses.
Gun amnesties also generate symbolic dividends. They draw public attention to the fundamental responsibilities of firearm ownership. Combined with public awareness campaigns and targeted gun-law messaging, they also highlight the health risks associated with poor firearms management, especially in accidents in the home.
Gun amnesties are more than just buy-back programmes. Most amnesties involve a basic transaction such as cash or other goods in exchange for voluntarily returning a firearm, but successful amnesties are often accompanied by other measures such as radio and TV campaigns, and the destruction of collected guns and ammunition.
Disarmament statute
There is mounting evidence that amnesties generate reductions in real and perceived violence. In South Africa, an amnesty in 2005 led to the collection of 100 000 firearms.
Take the case of Brazil, the world leader in homicidal violence. More than 56 000 Brazilians are killed annually, about three-quarters of them as a result of gunshot injuries. Gun violence is virulent in the big cities. Confronted with rising violent crime, the Brazilian congress passed a disarmament statute in 2003. Backed by widespread public support, the 2003 statute set out 77 articles spanning restrictions on firearms purchasing, the criminalisation of unregistered firearms and limitations on carrying guns outside the home. It also increased the minimum age for ownership to 25. The statute also prescribed a firearms amnesty.
Straightforward approach
Starting in mid-2014, Brazilian public officials, police and non-governmental groups launched a national disarmament campaign to collect and destroy weapons. In three months, 80 000 firearms were retrieved.
The amnesty was extended, lasted more than a year and adopted a straightforward approach. People handing in weapons were reimbursed in cash with the amounts paid, depending on the weapons type, no questions asked. State officials deposited the money in bank accounts within 30 days. Those caught with firearms after the amnesty's expiry risked being arrested and jailed without bail.
The results of the amnesty were a success. Between July 2004 and October 2005, more than 460 000 guns were collected.
More importantly, Brazil's gun amnesty is correlated with statistically significant reductions in murder. A year after the statute was signed into law, firearm homicide declined by 8% – and this after 13 years of steady increases. The drop translates into 3 234 lives saved in one year. Amnesty campaigns were repeated in 2009 and 2011, and yielded more than 1.1 million weapons. Successive amnesties also dented the availability of weapons. Removing 500 000 from circulation indirectly increased the price of weapons on the black market.
A key lesson across all these experiences is that gun amnesties alone are necessary, but insufficient. A healthy regulatory regime is a key ingredient of success.
Across the Americas, amnesties are accompanied with tough enforcement. If South Africa wants to bring down its gun homicide rate, it will do well to draw the right lessons from other countries.
Muggah is research director of the Igarapé Institute in Brazil
Published on CityPress.