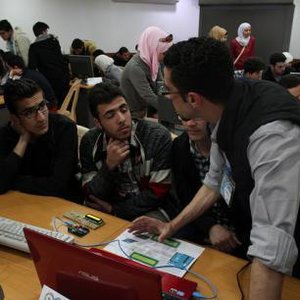 13 de December de 2016
In
Op-eds
War, peace and the technological revolution
Conflict zones were once considered 'information-scarce environments'. Wars effectively cut off large slices of territory and populations from the rest of the world. No longer. As vicious conflicts from Darfur and South Sudan to Syria amply show, new technologies have changed all that. Data is collected from satellites to smartphones, offering real-time channels to view events on the ground. Technology has dramatically transformed the ways in which wars are fought, but also how they are reported and how they are communicated between citizens.
The revolution in information communications technologies is forcing through a new form of conversation. What are the pros and cons of these digital platforms? How will the next generation of tools transform the construction of peace? Before I turn to solutions, I should confess that I'm not steeped in the peacebuilding world. That said, I do come from Brazil, a country experiencing conflict in all but name — we had more than 58,000 murders last year, surpassing Syria.
My personal interest in these issues kicked off two years ago when I started working for the Igarapé Institute. As a software developer working in the private sector, I suddenly found myself building technologies to make people safer. After developing a relationship with Jigsaw — the think tank associated with Google — my team and I became involved in building new data visualisation platforms to understand insecurity around the world.
Some of our platforms have attracted international attention. Our Mapping Arms Data (MAD) tool tracks millions of authorised firearms and ammunition transfers around the world. Our Homicide Monitor examines national and regional dynamics of murder in every country. We've also built mobile phone apps that are designed to disrupt police violence, expose how children experience violence, and forecast the probability of crime at the metropolitan scale.
While the situation in Brazil is very different to conflicts in Africa and Asia, there are also surprising similarities. I have acquired a few insights that might be useful for those involved in mobilising new technology in war zones.
For one, the democratisation of technology is also enabling creative and innovative solutions to complex problems. That said, technology is no panacea — it can't solve every problem. What's more, there are some easy ways to make technology even more useful and effective to disrupt violence. Let me expand on each of these points.
First, the reach of new technologies is hugely impressive. In war zones virtually everyone has a telephone, can send SMS, and even access the internet or a hotspot (though there are often dangerous forms of surveillance that need to be recognised). Almost everyone also uses social media and communicates in real time with families and friends.
These innovations offer a fascinating entry point. For example, Syrian refugees are using google maps and Facebook to find safer ground. Virtual campaigns are raising awareness of the scale of atrocities in war zones, including violence against women. Crowdsourcing tools are helping people share information about conflict and terrorism, enabling more rapid responses. Drones are also playing a role, including transporting supplies, providing access to the internet, and supporting diagnostics. Even gaming and virtual reality have a part, creating a proximity among users to the wartime experience.
But we also need to remember that new technologies are not silver bullets. Peacebuilders, development experts, security officials and diplomats must see technology as one tool among many. While it can help augment understanding and awareness, it also can reinforce false assumptions and raise ethical dilemmas.
Technology can empower, but it also creates vulnerability. It is a double-edged sword: citizens can use technology for peace while armed groups and extremists can use the same tools to organise their attacks. Peacebuilding is threatened by this exposure. A first order of business, then is learning how to predict, disrupt and stop the risks.
There is a fascinating ecosystem of technology innovation for peace in development. There has been an explosion of hackathons, code sign initiatives, gaming developments and more. While these bewildering transformations take place, how well do they work in the real world? What are the challenges that must be overcome to make them scalable? The fact is that we still don't have much evidence of what works and what does not. There's plenty of good will, but not enough robust analysis of impact.
In all of our projects at Igarapé Institute we have faced these challenges. For some of our innovations — including open source body cameras for police — we are working with government counterparts. Sometimes they have the right mindset and adequate skills to scale, sometimes they do not.
It's not always the case that open source solutions will fly. As a think tank, we need to get creative. I've found that inertia among public partners is often because they don't believe that open source low-cost technologies are cheaper or more effective than private ones.
It goes without saying that there is no one-size-fits-all approach to designing and deploying new technologies for peace. Indeed, given the pace of innovation and the range of user environments, customisability is a key feature needed in peacekeeping technology. We've found that agile programming development processes are key. Start with short, two-week pilots and adjust the technology according to local needs. As seductive as our outputs might be, we must never forget to be always focused on solving the problem and not selling the technology. We cannot force a triangle through a square hole.
We also need to get better at sharing and integrating our solutions. There are many groups developing similar products around the globe, and we sometimes run the risk of reinventing the wheel. But if we worked together, imagine the scale we could achieve.
Events like the Build Peace or Peace Talks are important ways to bring awareness to the problems that must be addressed, but also the solutions already available. The good news is that the potential for innovation is growing exponentially. But we need to be wary of the risks. The next great challenge is to mature our technology, demonstrate its effectiveness, and never forget that people's wellbeing is central to the solution. In the end, bringing peace and harmony is all that matters.
By Bruno Siqueira
Opinion editorial published in 13 December, 2016
Open Democracy