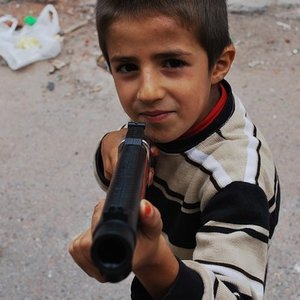 Brazil May Lower the Legal Age for Owning a Gun
Brazil is suffering from an epidemic of gun violence, with more than 4,000 people killed this year in the state of Rio de Janeiro.
Brazilian lawmakers are currently debating a gun control bill that would lower the minimum age requirement for gun ownership from 25 to 21 years of age, a move critics say will increase the likelihood of gun-related crimes.
The bill, which will be put to a vote next week, would impose slightly harsher penalties on the illegal possession of firearms, raising the mandatory minimum sentence up from one year in prison to two years.
Ilona Szabó, executive director of the Igarape Institute, criticized the new proposal. She wants to see far more frequent background checks, along with stricter limits on gun ownership.
"If we must periodically renew licenses to drive cars, then why shouldn't we increase the frequency of gun ownership registrations?" Szabó asked.
Brazil tightened its rules on weapons sale in 2003 when lawmakers approved the national Disarmament Statute. That legislation has reportedly saved around 160,000 people, according to a 2015 study jointly carried out by the Brazilian government and the Latin American Social Sciences Institute, FLACSO.
Despite this, the study found that 116 people die from gun violence in Brazil every day.
Brazil has a powerful arms lobby and is the second largest exporter of small arms and ammunition in the Americas after the United States. Similar to the U.S., the right to own a gun is often seen as a matter of personal freedom and a necessity in many rural parts of the country.