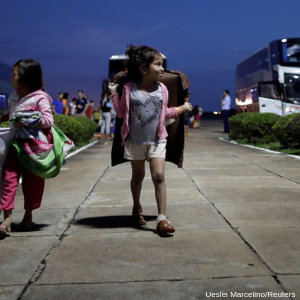 Cities Need to Welcome—Not Resist—Refugees
By Robert Muggah.
To CityLab.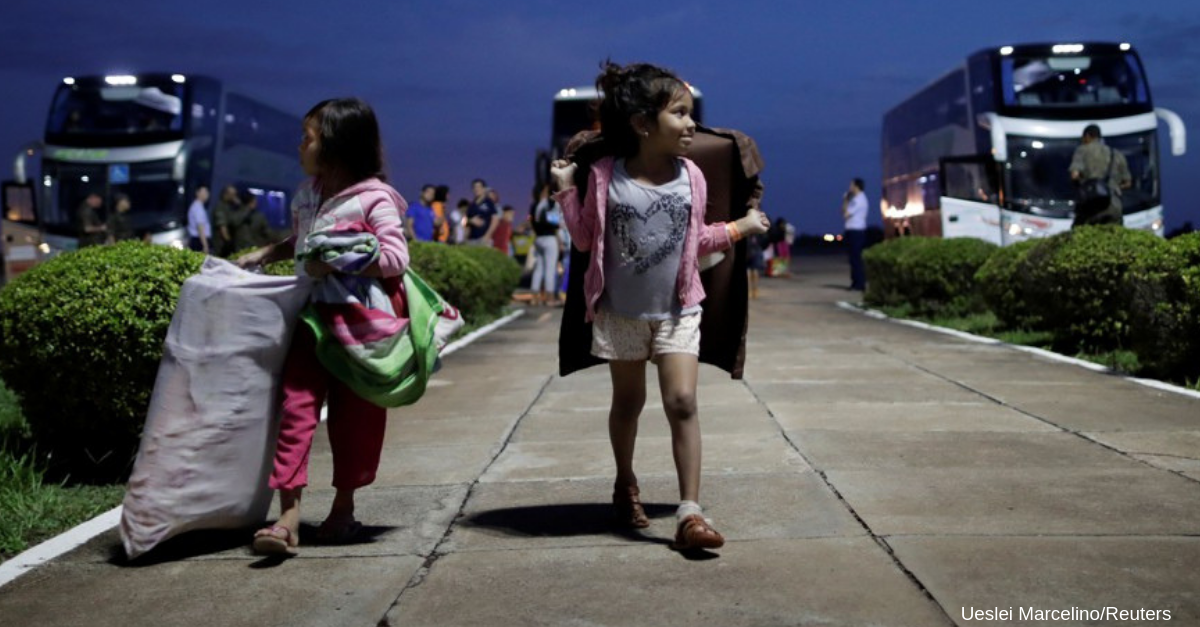 A surge in migrants has fueled populist backlashes in cities around the world. But urban areas have a key role to play in mitigating the crisis.
Venezuela´s monumental political and economic crisis is threatening to bring cities across Latin America to their knees. More than 2.3 million Venezuelans—roughly 7 percent of the country´s population—have fled since 2014. Many are seeking sanctuary in towns and cities in Brazil, Chile, Colombia, Ecuador, and Peru. At one point earlier this year, up to 5,000 asylum seekers and forced migrants were crossing the Venezuelan border every day; many of them ended up on the streets of South America´s poorest border towns, which are ill-prepared to handle them.
Even a comparatively modest number of new arrivals can trigger a massive political backlash in hosting countries. Take the case of the roughly 56,000 Venezuelans who have sought refuge in Brazil since 2015, around two percent of the total number of migrants fleeing the country. As The Guardian recently reported, newcomers are overwhelming city services in places like Boa Vista, the capital of Roraima state. State authorities claim that crimes shot-up by 132 percent and visits to health clinics surged by 6,500 percent since 2015, with migrants singled out for blame.
Levels of animosity against migrants in Brazil's frontier towns are also spiraling sharply, with attacks against Venezuelan migrants on the increase. Last month, a Venezuelan migrant was killed in the Brazilian city of Paracaima amid accusations of robbery by local residents. Earlier this year, 50 Venezuelans were expelled from Mucajai, in Roraima state, and another migrant was killed in Rorainópolis, a town nearby. Amid growing unrest, the Brazilian armed forces were hastily deployed to keep the peace.
In a hotly contested election year, some of Brazil´s right-wing politicians are taking advantage of the souring public mood to blame all the country's ills on new arrivals. The state government of Roraima, for example, illegally closed its border with Venezuela, before being forced to re-open it by the Supreme Court just 15 hours later. Municipal officials in some cities are requiring passports to access services. Similar measures are being introduced in cities in neighboring Colombia, Ecuador, and Peru, where a surge in migrant flows is fueling waves of populist sentiment.
A global backlash against refugees
The backlash against refugees is hardly confined to Latin America. Populists in Australia, Germany, Hungary, Italy, Poland, Serbia, Slovenia and the U.S. are obsessed with erecting barriers to immigrants and refugees. Refugee admissions to the U.S. are at the lowest levels since the Refugee Act was introduced in 1980. Just 33,000 refugees were accepted in 2017 and President Trump is determined to reduce the ceiling to 15,000 by 2019. And since the arrival of over one million refugees to Europe in 2015, governments across the region have fortified their border with fences, cut funding for assistance, and ratcheted up deportations.
Similar sentiments toward refugees and migrants are on display in African, Middle Eastern and South Asian cities that host most of the world´s forcibly displaced people. The extrajudicial killings of foreigners in Durban and Johannesburg over the past decade was animated by South African populists who label immigrants and refugees as criminals. Somali refugees in Nairobi are routinely targeted by police, often at the behest of Kenyan politicians who accuse them of being a threat to national security. Meanwhile, Bangladeshi border towns are struggling to absorb over 700,000 Rohingya refugees from Myanmar, amid complaints that they are contributing to food shortages, pushing-up prices, and undercutting wages.
But those determined to close their borders are fighting an uphill battle, given the breathtaking scale of refugee flows. And the global refugee crisis in increasingly an urban crisis. According to the United Nations High Commissioner for Refugees (UNHCR), more than 17.5 million refugees (almost 60 percent of the total) and some 32 million internally displaced people (80 percent of the global caseload) reside in large, medium, and smaller cities. Most refugees are living with family and friends in urban centers as close as possible to their homes, usually in a neighboring country. This is in stark contrast to the past, when most refugees were deliberately warehoused by hosting nations in rural settlements or "camps" far from city centers.
Inadequate international response
The international response to this urban refugee crisis has been woefully inadequate, as I explain in a new report published by the World Refugee Council, Refugees and the City. The failure to mobilize support and coordinate national and local responses has contributed to fragmented approach to supporting new arrivals, as well as growing political backlash against those who've already settled.
This is hardly a new problem—the systemic neglect of urban refugees can be traced back to the creation of the refugee convention in 1951—but it is getting harder to ignore.
The world's premier organization for refugees and asylum seekers is the UNHCR. But until recently, it's has been missing-in-action when it comes to supporting cities cope with the demands of refugees. The agency only set out its first official policy statement on urban refugees in 1997. Concerned that providing aid might unintentionally attract refugees to cities, the policy called instead for reducing assistance and promoting "self-reliance." Human rights activists and UNHCR personnel strongly criticized this approach. And while strategic documents issued by the agency in 2009 and 2014 offered some advances, they still fell short.
Far from being a burden, refugees and asylum-seekers tend to generate a net positive impact on local economies—if properly planned for.
Even the UNHCR's latest strategic plan makes just one passing reference to urban refugees—acknowledging that they constitute the majority of the agency´s caseload—but offering no vision or concrete recommendations. But this may be starting to change. UNHCR recently launched a new campaign, #WithRefugees, to promote solidarity for refugees, including in partnership with city authorities.
One reason UNHCR and other international organizations have been reluctant to help cities protect and integrate refugees is because nation-states don't want them to. The UNHCR has long faced pressure from UN members, and refugee-hosting states in particular, to limit refugees from moving to cities. The conventional wisdom among aid agencies was that allowing refugees to move to cities could antagonize hosting governments, who often perceived displaced people as a threat to domestic and international security.
And national authorities themselves have long resisted giving cities more say in responding to issues of cross-border and internal population displacement. Neither the 1951 Convention on Refugees nor its 1967 Protocol offer specific references to urban refugees, much less guidance on the specific roles and responsibilities of urban authorities. The newly minted Sustainable Development Goals (SDGs) are also silent on the issue of urban displacement. And two new global compacts on migration and refugees offer virtually no consideration to the central role of cities in supporting forced migrants.
Cities can seize the lead
These omissions have not gone unnoticed: Cities and inter-city networks are agitating for a greater voice in deciding the content of the global compact for refugees.
Last year, a small delegation of cities, led by New York City, sent recommendations to improve the overall wording and content of the global compact for refugees. Likewise, in 2017, the International Organization for Migration, together with the United Cities and Local Government (UCLG) assembled 150 cities to sign the Mechelen Declaration demanding a seat at the decision-making table. And in 2015, Eurocities, a network of major European cities that represents the local governments of more than 140 of Europe's largest cities and 45 urban centers, established Solidarity Cities in response to the influx of Middle Eastern and North African migrants, in order to help cities deliver services and identify long-term solutions to protect social cohesion and integration.
Cities are also getting on with developing legislative and policy frameworks to welcome refugees and promote protection, care, and assistance. In the U.S., there are more than 100 "welcoming cities" that have committed to developing institutional strategies for inclusion, building leadership among new arrivals, and providing support to refugees. Another 500 U.S. jurisdictions describe themselves as "sanctuary cities" to resist federal efforts to enforce immigration law and are on the frontline of supporting refugees—despite threats of cuts to municipal funding.
Meanwhile, in the United Kingdom, "cities of sanctuary" offer yet another approach to providing compassionate solutions for refugees. Today, at least 80 cities of sanctuary across the UK are committed to welcoming refugees, asylum seekers, and others seeking safety. And large and medium-sized cities across Europe are also adopting similar strategies, in cooperation with Eurocities.
And cities are pooling their resources to achieve greater influence on the urban refugee agenda.
Today, there are more than 200 intercity networks dedicated to urban priorities ranging from governance and climate change to public safety and migration. Several have dedicated guidelines on how cities can protect and care for refugees. For example, the Global Parliament of Mayors, established in 2016, focuses on, among other things, promoting inclusive cities for refugees and advocating on their behalf. The International Coalition of Inclusive and Sustainable Cities is also strengthening information sharing and best practices. Another new initiative is Urban20, which is promoting social integration, among other issues, and planning an inaugural meeting in October 2018.
There are good reasons to create a welcoming environment for new arrivals. Despite accusations to the contrary, refugees and asylum seekers do not cause a crime surge in cities where they relocate. There is evidence across upper, medium, and low-income settings that refugee communities and mixed-migrant communities are less prone to crime than average host communities. Crime actually decreased in U.S. cities where refugees and asylum seekers were resettled. This is not to say that refugees and asylum claimants are never involved in crime, but rather to highlight that they are often involved at rates below the national average.
Far from being a burden, if properly planned for, refugees and asylum-seekers also tend to generate a net positive impact on local economies. Over the long term, the short-term negative effects of sudden inflows are often attenuated and frequently reversed. One study examining refugee arrivals to the U.S. revealed no adverse long-term impact on labor markets through paying taxes and entrepreneurial activity. Another paper on the impacts of Syrian refugees on labor markets in neighboring countries showed few disruptive effects on unemployment rates or labor force participation.
The effective social and economic integration of refugees into cities comes down to smart planning. It's true that new arrivals can generate surging demand for housing, health, education and welfare services. But this can be partly mitigated with appropriate dispersal policies. A review of European cities found that refugees typically received poor accommodation, uneven support, limited access to labor rights and uneven social and disability care compared to local residents. These shortfalls were not due to the excessive needs of refugees, but rather the lack of qualified staff and adequate resources on the ground.
In settings where cities are vastly overstretched, humanitarian and development organizations need to dramatically step up their support for urban refugees and asylum seekers. Agencies like the International Committee of the Red Cross are discovering that this requires working with, rather than around, cities. This is more radical than it seems: For much of the 20th century, the focus of aid organizations was on providing direct assistance to refugees interned in rural camps, a bias that was reinforced by UN member states, especially those hosting large numbers of refugees. Such an approach is unacceptable. Mega-trends such as unregulated urbanization and, increasingly, climate change, are forcing a change of thinking.
Next to national governments, cities have a comparative advantage when it comes to protecting and assisting refugees: They must operate in the practical realm and deliver results. Cities are also uniquely poised to tailor services to the specific needs of new arrivals and hosting communities. But poorer cities, like those in Brazil, need greater political power and economic support. While cities may not (yet) be in a position to craft immigration legislation, they can change laws and policies to make life easier for refugees. They will need resources to scale up their activities—and this may require changes in national laws, so that cities can determine their own residence policies and keep the tax revenues generated by the migrants who move there.