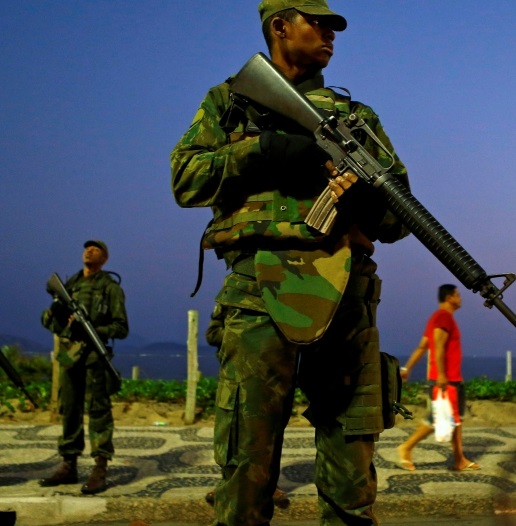 By some measures, Rio will be the most secure Olympic Games yet
August, 2016
A lot of people are fretting about the safety of the Summer Olympics. Zika fears have kept some athletes from competing in Rio de Janeiro. Then there's the notoriously unsafe water in Guanabara Bay, an Olympic venue so filthy that some rowers and sailors are planning to wear protective gear.
Of course there are concerns about physical safety and violent crime.
And what about the risk of a major terror attack? After the attack in Nice last month that killed more than 80 people, many fear that Rio could be next. Groups like ISIS have already threatened to target the international competition, which opens Friday and runs for several weeks.
In spite of widespread criticism, Brazil is comparatively well prepared to anticipate and fend off a well-organized terrorist strike. Along with tens of thousands of private security personnel, it has more than 85,000 military and police personnel deployed for the Games — twice the number present for the London Olympics in 2012.
Brazilian authorities set up an integrated command and control center for the event, building off their experience hosting the 2014 World Cup. An international counterterrorism office was also created, a first for an Olympic event. Drones and four giant surveillance balloons will hover over the entire city to monitor events on the ground.
The government is also bolstering its cyber security defenses to address digital threats, including from groups like the ISIS Cyber Caliphate. Representatives from at least 33 international intelligence agencies are working with their Brazilian counterparts. Even the International Olympic Committee set up a cyber-crime center to monitor, among other things, malware and phishing attempts.
Intelligence cooperation between the US and Brazil has quietly increased in recent months after an apparent increase in online chatter among ISIS sympathizers. In some cases, threats were issued through social media platforms like Twitter and Facebook. Following terror attacks on Paris in November last year, a self-declared ISIS recruit tweeted "Brazil, you are next target."
In late May this year, a new Portuguese-only channel on Telegram, an encrypted messenger service, also started issuing instructions to would-be ISIS supporters to attack visitors to the Olympics. Chief among the declared targets were US, French and Israeli citizens. And in mid-July, a group calling itself Ansar al-Khilafah Brazil pledged its allegiance to ISIS leader Abu Bakr al-Baghdadi and began posting ISIS propaganda.
The threat of terrorism is new to Brazil. There has never been an attack on Brazilian soil. But Brazilian and US authorities are taking these digital threats seriously. Indeed — while suspected recruits to ISIS in Brazil have been described by federal police and the country's foreign minister as amateurish — it would be a mistake to underestimate potential threats.
Brazil has taken steps to show the world it has the will and means to respond to organized terrorist activity. Over the past month, 12 Brazilians were detained under the country's new anti-terrorism law, which says suspects can be held for up to 60 days. Of course, the country needs to be cautious about how the law is applied. Human rights experts are concerned that terrorism is defined too broadly in the legislation and may give too much discretion to law enforcement at the risk of undermining the civil liberties of legitimate public protesters.
All the preparation in the world, however, cannot replace direct experience. Despite receiving counterterrorism training from the US, as well as from French and UK forces, Brazilian authorities have virtually no experience in dealing with an actual terrorist incident, much less an attack from a remotely radicalized lone wolf.
There are also some worrying capacity gaps on the ground: the government waited until the last minute to contract security for operating the screening and x-ray machines at key venues. Last week, the public authorities reversed course, announcing that they will drop the local contractor and send 3,000 National Guardsmen to do the job instead.
Rio will in all likelihood pull off a safe event, but not without a lot of help from of its friends.