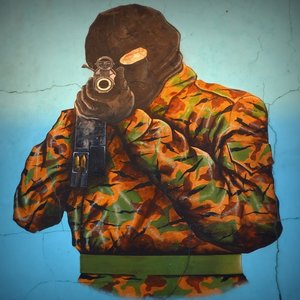 Brazil's Gun Violence Problem Is 'Made in Brazil'
July, 2015
por Robert Muggah
Rio de Janeiro´s famously laid-back residents are in a state of panic. A string of high profile knifings in well-heeled areas of the city are putting Cariocas on edge. The recent stabbing of a doctor inspired the drafting of new legislation to control knives. Though well intentioned, this effort is misguided.
It is not so much knives, but rather handguns that are doing the most damage. Revolvers and pistols were responsible for 42,416 of Brazil´s jaw-dropping 56,337 murders in 2012. Across the country, gun-related homicide has increased by 387%since the 1980s. Simply put, guns are more lethal than bladed weapons.
A popular misconception is that automatic assault rifles trafficked from neighboring countries are behind the city´s spike in lethal violence. Grainy footage of young men menacingly waving AK-47s are circulating in social media. Media stories regularly feature line-ups of arrested suspects and their arsenals of heavy weaponry.
The facts on the ground tell a very different story. Between 2010 and 2014, at least 39,150 firearms were seized in Rio de Janeiro. According to military and civil police records, 3,989 firearms were collected in the first five months of 2015. Of these, roughly 80% were handguns. Just 223, or 5%, of all the collected weapons consisted of semiautomatic rifles and machine guns.
From Rio de Janeiro to Sao Paulo, revolvers and pistols are most commonly used in crime – over 90% of all reported gun-related incidents according to the civil police. What is more, about two thirds of all seized guns were previously legally registered to civilian owners, highlighting the murky continuum linking the legal and black markets.
A burning question is how to reduce the availability of illegal firearms and ammunition. Politicians argue that it´s impossible to keep weapons from crossing Brazil´s porous borders. They have a point. Arms and ammunition seized in Rio de Janeiro can be traced to dozens of countries, with some of them crossing over theAtlantic, but also Argentina, Bolivia, Colombia and Paraguay.
But these foreign-sourced firearms represent a modest slice of the total guns in circulation. Most firearms and ammunition in Rio de Janeiro were not trafficked from abroad, but rather produced and sourced closer to home. Of the 8,622 firearms seized by Rio de Janeiro´s military police in 2014, over 68% were manufactured by Brazilian (government-subsidized) firms including Taurus, Rossi, IMBEL and CBC. Most of these were purchased, gifted or stolen in Brazil.
If Rio de Janeiro is going to get its gun violence problem under control, its public authorities and citizens need to have an honest debate about how firearms are getting into the wrong hands. Finger-pointing at neighboring countries or banning knives will generate virtually no impact. At a minimum, the federal, military and civil police should start sharing information, tighten up controls to keep legal firearms from slipping into criminal markets, and mark their ammunition so it can be traced to source.
The Huffington Post