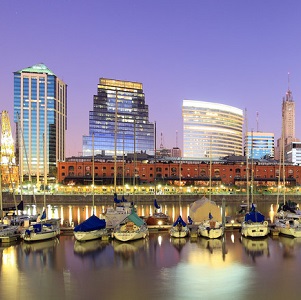 1,000 global leaders just met in Buenos Aires. Here are the highlights:
7 de Abril
If yesterday was about analysing the challenges facing the region, today was about coming up with solutions. Here are some of the highlights from the final day of the World Economic Forum on Latin America.
The secret to a more productive region
After almost a decade of growth, Latin America has had two years of recession to contend with, threatening to reverse some of the gains it has made. Leaders in Buenos Aires have been full of ideas to help boost regional productivity, largely centering on education and skills development.
But Ricardo Hausmann of Harvard University had another suggestion: open up to immigrants.
"Part of the reason Panama has grown so much is because, by Latin American standards, it has a relatively open immigration policy," he said, picking up on a point he had already made in previous sessions. "We have carried out studies showing that the productivity of locals is dramatically increased when they work with foreigners."
Focusing on its competitive edge
Another way for Latin America to overcome the challenges it faces is to focus on what it does best. One of those areas is alternative energy. "Latin America is a leader in renewable energy," Luca D'Agnese of Italian energy firm Enel noted in a session.
Indeed, according to a 2016 report, countries in Latin America and the Caribbean have some of the most ambitious clean energy targets in the world. As this Forum video shows, some countries in the region are running almost entirely on renewables.
Making Latin America safer
As Robert Muggah of the Igarapé Institute wrote on Agenda this week, Latin America is the most violent region in the world – even as homicide rates fall in other parts of the world.
"Latin America has long been the world's most murderous part of the world, experiencing some 2.5 million homicides since 2000."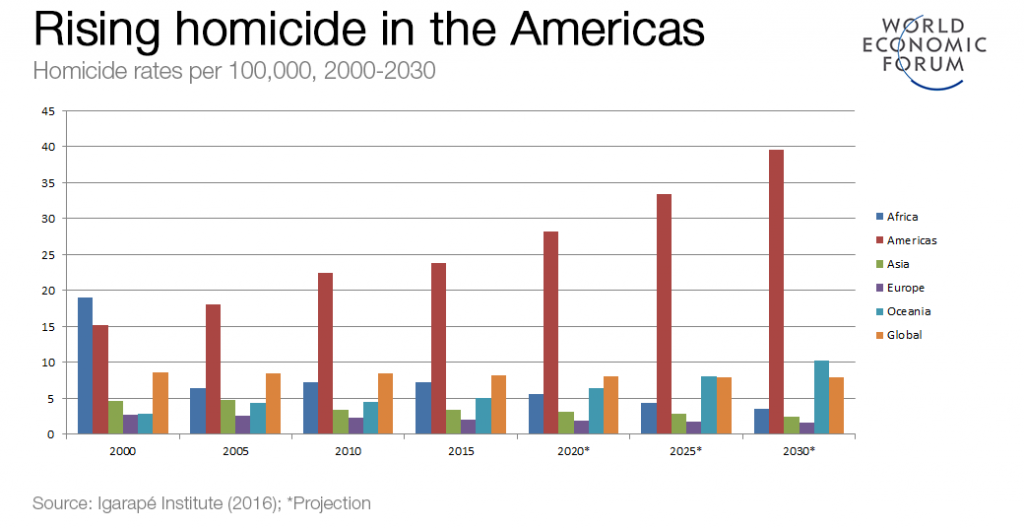 Today we heard of bold plans to tackle this problem and halve homicide rates over the next 10 years through a new initiative, Instito de Vida. "This target might sound ambitious," Ilona Szabó de Carvalho, also of the Igarapé Institute, told participants in a briefing. "But it can be done. In fact, many cities – Medellín, São Paulo – are already doing so."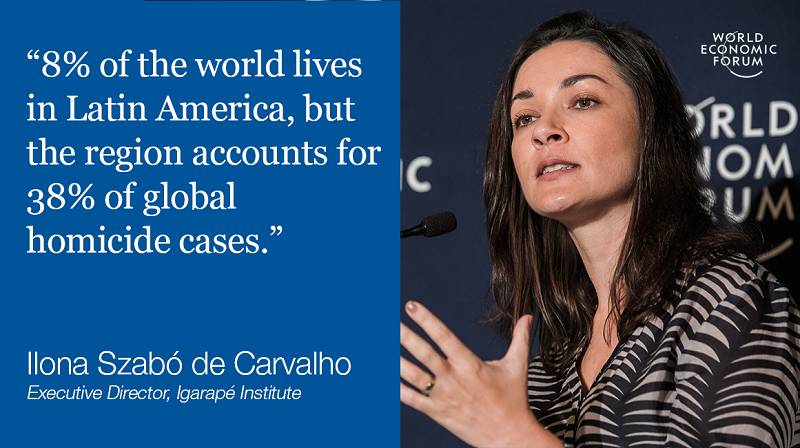 Federico Gutiérrez, the mayor of Medellín, was there to share some insights into how this progress could be replicated across the region.
"In the 1990s, Medellín was the most violent city in the world," he explained. "There were socially marginalized areas where the state was absent, and then criminals filled that void."
Getting to grips with the problem didn't involve ramping up police presence or sending more people to prison; instead it involved policy-makers working with society, addressing the problem in a holistic way, and tackling the root causes rather than the effects.
"If we see that young people who end up as criminals are also those who are dropping out of school at an early age, then we need to get in there early and stop them from dropping out," Gutiérrez said as an example. "Much progress has been made in Medellín, but there's still a lot to do – you can never stop working."