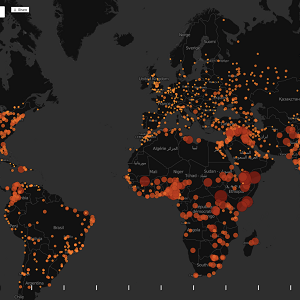 What is the Status of the World's Refugees?

Newsletter nº 5 – May, 2017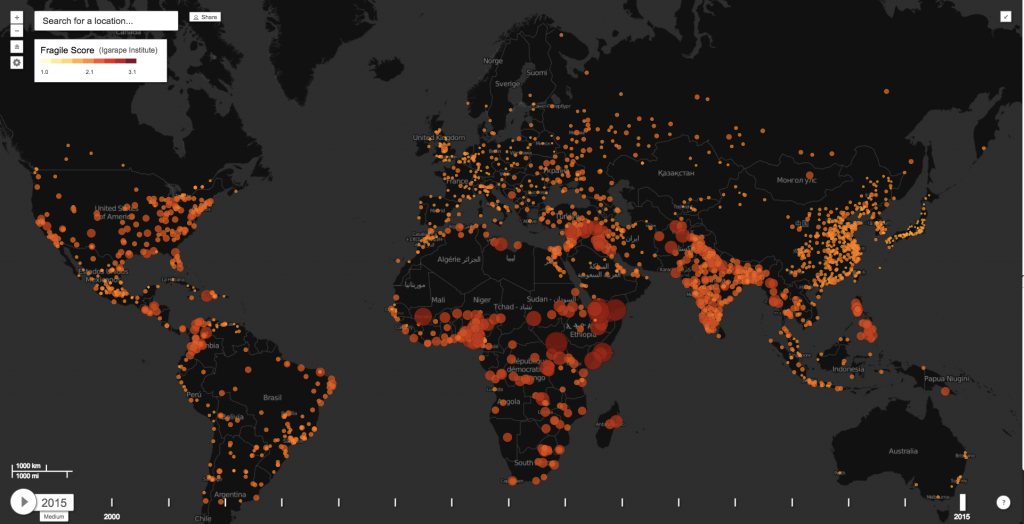 What is the Status of the World's Refugees?
The world is facing unprecedented levels of population displacement. As noted in recent articles by the Igarapé, at least 65 million people are on the move, including 21.3 million refugees and 31 million internally displaced persons since the beginning of 2016. That means that 1 in every 100 people globally is displaced from their home. The last time we came close to these levels was during the World War II.
There is not just one global refugee crisis, but as noted in articles in the Guardianand Brazilian press, multiple overlapping crises. And it's not the West, but rather North Africa, Middle East, and South and Southeast Asia that are especially affected. A new data visualization, EarthTime Lapse, captures the scale and distribution of these crises between 2001-2016. It was exhibited by the Igarapé at this year's WEF Meeting (January),TED2017 (May), and the Global Cities Forum (June).
Earth Timelapse was developed as a partnership by the Carnegie Mellon's CREATE Lab, together with the Igarapé Institute and others. The latest findings were featured by Business Insider (on refugees, terrorism and pandemics), Fast Company, Nexo, o Globo, the WEF Agenda and more than 90 news outlets around the world. The platform has more than 1 million views over May (and more animated clips are available). Igarapé will continue developing the platform in the months ahead.
Igarapé in numbers – May 2017
Instinto de Vida in OAS General Assembly

The Instinto de Vida campaign took part in the 47th Regular Session of the General Assembly of the OAS, in Cancun (MEX) from 19-21 June. The campaign coordinators also launched a new policy documenthighlighting evidence-based approaches to reducing homicidal violence. The team met with ambassadors from Brazil, Colombia, El Salvador and Guatemala to discuss ways for their governments to hit the 50% reduction target. With launches in Mexico and El Salvador in May, Instinto de Vida was reported by AP, Thomson Reuters, O Globo and many others, generating more than 500 stories.
Keep an eye out for
Senior researcher, Renata Giannini, will be in Cape Town from 3-5 July to participate in the Global Initiative Against Transnational Organied Crime and ENACT event.
Igarapé Institute research director, Robert Muggah, is heading to Singularity Universityin San Francisco from 7-8 July to teach, meet with Google partners and connect with social impact specialists.
The Institute's executive director, Ilona Szabó, will be in Ottawa and Toronto from 10-15 July to take part in a special global leadership forum held by the World Economic Forum and representatives of the Canadian government.
Researcher Renata Avelar will participate in the Third Academic Conference on International Mediation from 17-19 July in Rio de Janeiro.