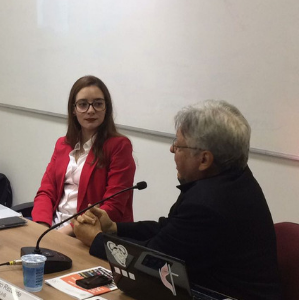 We need to talk about cyber security
Igarapé Institute researchers launched the first publication of its new Cybersecurity and Digital Liberties series. The report – Uma Estratégia para a Governança da Segurança Cibernética no Brasil – was prepared by researchers Louise Hurel and Luisa Lobato. It explores the evolution of Brazil's cybersecurity agenda and opportunities for multi-sector cooperation.
The publication was released during the 7th Brazilian Forum for Computer Security Incident Response Teams, in Sao Paulo. The event assembled hundreds of key players in the cyber security and civil liberties companies, together with network operators and companies.
Also in September, Igarapé hosted an event on Cybersecurity and Elections 2018 together with support from PUC-Rio. The panel featured specialists such as Dr. Pedro Rezende, of UNB, Chiara de Teffé, of UERJ and Rodolfo Avelino, of the Federal University of ABC, to debate, among other things, the integrity of electronic voting devices.
Read the publication