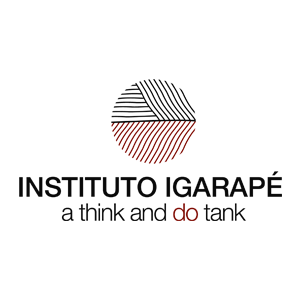 New Study by Igarapé Institute tracks how Amazon organized crime networks spread across Brazil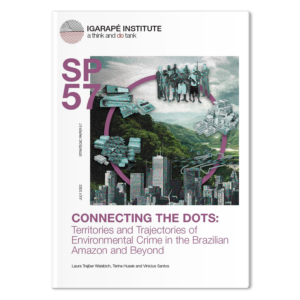 Nearly half (45%) of Federal Police interventions from 2010-2021 targeted illicit acts on protected areas and indigenous lands

A new study by the Igarapé institute analyzing more than 300 Federal Police operations between 2016 and 2021 found that environmental crime in the Amazon region is not only organized but far more than a local problem. Indeed, this vertibable criminal ecosystem behind Amazon plunder has expanded nationwide, reaching 24 of Brazil's 27 states as well as neighboring nations.
According to the study "Connecting the Dots: Territories and Trajectories of Environmental Crime in the Brazilian Amazon and Beyond," published Wednesday, July 20, the federal operations flagged criminal networks in 846 venues across Brazil and the region. This article is the latest in our series "Mapping Environmental Crime in the Amazon Basin." The police ops focused largely on the nine states comprising Brazil's Legal Amazon region, where spreading criminal activities took investigators to 197 municipalities, representing 75% of total interventions. Police also targeted environmental crimes in 57 Brazilian municipalities outside the Amazon region, and another eight cities in neighboring countries.
The Federal Police interventions were triggered by unchecked deforestation associated with a variety of unlawful economic activities, from outright crimes to nominally licit market activity tainted by crime. These include illegal timber extraction, illicit mining (especially gold), land grabbing and predatory farming and ranching. This criminal network was first explored in Igarapé's strategic paper, published earlier this year, "The Ecosystem of Environmental Crime in Amazonia: An Analysis of Illicit Economies in the Forest." The current study takes a deeper dive into the widening criminal nexus that undergirds environmental crimes and related offenses, including illegal money flows, tax evasion, corruption, fraud and criminal violence. 
"We know that environmental crimes are rarely committed in isolation. This new study shows that the rest of Brazil also shares the blame for criminal acts in the Amazon," said Igarapé research director Melina Risso. "While the impact falls most heavily on Brazil's Legal Amazon region, provoking serious social, economic and environmental repercussions, the criminal networks behind these crimes reach beyond the Amazon and across national boundaries."
"Our goal is not to name and shame. We want to understand the scope, scale and dynamics behind this ecosystem of environmental crimes to advance the public policies and corporate practices needed to protect people and forests," said Igarapé Institute president Ilona Szabó de Carvalho. "Clearly we need urgent and permanent initiatives by public authorities and the private and financial sectors, who in turn must close the loopholes that taint supply chains and financial operations, and work instead to attract responsible investment to the region."
Pará state, in Brazil's easterrn Amazon, looms large on the police blotter. Federal Police launched 83 operations into 161 targeted territories across 46 of the state's municipalities. Rondônia state was close behind, with 122 areas investigated in 29 municipalities, followed by Amapá (101 territories in 10 municipalities). Outside the Amazon, São Paulo state drew the closest scrutiny, with police mapping 36 trouble spots. Yet Amazon crime also had echoes in southern Brazil, with police operations reaching Paraná state (13 territories investigated), and the center-west state of Goiás state (10 territories). Federal investigations went even further, probing criminal connections to groups in French Guiana, Venezuela, Suriname, Colombia, Bolivia and Paraguay.
Illegal and irregular timber harvesting dominate the map of illicit economies, with federal investigations reaching 188 territories nationwide, 87% of them in the Legal Amazon. All told, police probed the illegal timber chain in 166 municipalities in 23 Brazilian states. More than a fifth (22%) of these hotspots fell within designated Amazonian protected zones, such as indigenous lands (TI in Portuguese), Conservation Units (UC) and Permanent Protected Areas (APP). 
Illegal mining is ubiquitous in the Legal Amazon, which harbors 80% of the 350 territories investigated for unlawful prospecting. Yet the shady minerals market leaves a much larger footprint, spilling over into 125 cities in 20 Brazilian states, and even into neighboring countries. Within the Brazilian Amazon, four cities drew special attention: Alto Alegre, in Roraima state, and Ourilândia do Norte, Itaituba and Jacarecanga in Pará. Beyond the river basin, São Paulo emerged as a vital hub in the illegal mining economy. 
The Igarapé study draws special attention to the vulnerability of ostensibly protected areas in the Amazon. Fully 45% of the crimes scrutinized by federal police during the six year period under review were flagged on protected land. Nearly a third (31%) of the 451 territories that police identified as leading environmental crime hotspots fell within indigenous lands. 
Amazon outlaws have also made indigenous lands prime targets. The Yanomami, of Roraima, have taken the brunt of the onslaught, their lands lighting up the map (26 times) of police investigations into outlaw mining and timber harvesting. Wildcat prospectors were also a chronic threat to the Munduruku (whose lands appeared 8 times on the map of federal police investigations) in Pará state. Illegal logging is the main menace to the Sete de Setembro indigenous territory, in Rondônia, also cited eight times by the Federal Police. Police also investigated 19 incidents of violence linked to environmental crimes on Amazonian indigenous lands. 
An important lacuna in the federal police operations are the so-called undesignated public land and forests. These are lands belonging to state and federal governments but whose legal use has yet to be specified. Although undesignated lands are especially vulnerable to environmental violation, federal police deployed only seven operations (2% of the total) to this vast stretch of Brazil during the six-year period analyzed. Nonetheless, deforestation on these lands has outpaced overall forest loss in the Amazon basin, and is notoriously linked to land grabbing. 
Finally, the current study highlights the troubling expansion of environmental crime to territories well beyond the "arc of deforestation" – the traditional perimeter of the Amazon economic frontier – to as yet unspóiled tracts of the river basin. This is a cautionary tale about the mounting threats to hitherto protected areas of the forest and a call to strengthen initiatives to combat environmental and connected crimes as a critical step in containing Amazon deforestation.
Igarape Institute's series "Mapping Environmental Crime in the Amazon Basin" is part of a proposal to improve comprehension of the dynamics of contemporary environmental crimes and related illicit acts in the Amazon Basin. We also are committed to generating recommendations for the authorities and institutions tasked with combating these crimes at the local, national and regional levels. The research behind this series will hopefully shed light on less debated and as yet little understood dimensions of the Amazon and its multiple challenges.
For more information about Igarapé Institute's Climate Security Program: https://igarape.org.br/en/climate-security/
For interviews, please contact us at renatarodrigues@igarape.org.br.
About Igarapé Institute
The Igarapé Institute is an independent think and do tank focused on public, climate and digital security and their consequences for democracy. Its objective is to propose solutions and partnerships for global challenges through research, new technologies, communication and influence on public policymaking.
The Institute works with governments, the private sector and civil society to design data-based solutions. Prospect Magazine named Igarapé Institute the best Human Rights NGO in 2018 and the best think tank on social policy in 2019.
We are a non-partisan, non-profit institution, headquartered in Rio de Janeiro with a global agenda. Our research team is spread across Brazil with representatives in Canada, Colombia, Ecuador, the United States, the United Kingdom.
Read the publication