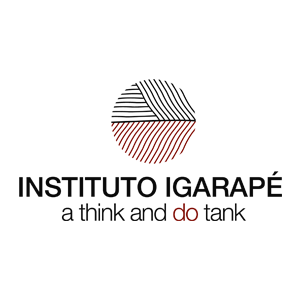 Igarapé Institute celebrates ten years of social impact and expands action across new fronts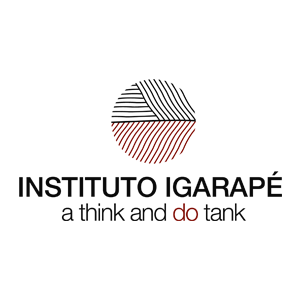 The organization releases a new video to mark its anniversary 
Launched ten years ago, the Igarapé Institute is more prolific and impactful than ever. On its tenth anniversary the Institute is expanding its engagement with climate security and digital security alongside public security. The Institute is connecting all three of these themes to fundamental questions related to the protection of democracy and civil liberties. 
To highlight this milestone, the Institute published a video summarizing its history, achievements and future plans. The short film looks back on the organization's journey, highlighting the way the organization has stepped-up to meet contemporary challenges. Among the many highlights are the Institute's evolving work on disrupting environmental crime, confronting digital harms, and revealing the ways that authoritarian and populist leaders are undermining democratic governance and civic space.
The Igarapé Institute is a think and do tank committed to designing, testing, sharing and scaling new ideas and innovations to address global problems. The Institute works with partners around the world to undertake research, build technologies and communicate results to amplify data-driven and evidence-informed public policy. With grassroots and transnational networks, the Institute works with mayors, governors, presidents, CEOs and multilateral organizations to drive social impact. 
The Institute has generated a prodigious range of products over the past decade. These include over 300 publications, hundreds of journal articles, chapters and books, citations in over 37,000 media articles and more than 2,000 opinion articles for media outlets globally. Igarapé Institute researchers have presented findings at over one thousand events to civil society organizations, legislatures and heads of state as well as leaders of the judiciary, private sector, media and academia in over 100 countries. The Institute has presented at venues ranging from Davos to TED, reaching the world's top influencers. 
The Igarapé Institute has also built large datasets for the design, monitoring and evaluation of public policies. For example, the Institute's Homicide Monitor is a global reference for data on lethal violence and used by media outlets around the globe. In all, the Institute has developed and deployed 28 apps and data visualizations, all of which have generated a host of positive social impacts. For example, in partnership with the Institute of Public Security in Rio de Janeiro, Igarapé Institute funded, designed and scaled-up a statewide crime analysis system known as ISPGeo.
"As we complete our first decade, our team is determined to engage the public in scaling-up effective strategies to make the world safer. More than ever, we need evidence-based strategies to drive human, digital and climate security," said Ilona Szabó, co-founder and president of the Igarapé Institute. "Given the complexity and scale of the challenges facing Brazil and the world, we must keep connecting people, ideas and solutions to improve safety and wellbeing now, and into the future."
To access the full video: https://youtu.be/Qiwk3fWqjes
For interviews, please contact: press@igarape.org.br.
About Igarapé Institute:
The Igarape Institute is an independent think and do tank focused on the areas of public, climate and digital security and its consequences for democracy. Its objective is to propose solutions and partnerships for global challenges through research, new technologies, communication and influence on public policies.
The Institute works with governments, the private sector and civil society to design data-based solutions. We were awarded the best Human Rights NGO in 2018 and the best think tank on social policy by Prospect Magazine in 2019.
We are a non-profit, independent and non-partisan institution, headquartered in Rio de Janeiro. Our operation, however, transcends local, national and regional boundaries. The Igarape Institute has professionals in cities in all regions of Brazil and in Canada, Colombia, the United States and the United Kingdom. We have partnerships and projects in over 20 countries.