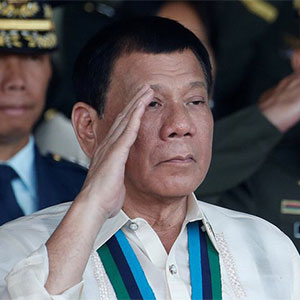 'Duterte in full control of drug war' – Palace
"President Rodrigo Duterte is in full control of the drug war," Presidential Communications Secretary Martin Andanar said, as he dismissed the recommendation by the author that the international community impose "economic sanctions" on the Philippines.
Robert Muggah, research director of the Igarapé Institute and SecDev Foundation, wrote that Duterte was "upending the country's (Philippines) international image" because of his deadly war on illicit drug sale.
"On the one hand, he has undermined the prospect of a serious and evidence-based strategy to prevent drug abuse problems," said Muggah.
"His (Duterte) dragnet collapses users of a wide range of drugs with devastating effect, including violating basic human rights. This king of impunity cannot be tolerated," he added.
Aside from economic sanctions on the Philippines, Muggah said foreign governments could withdraw their assistance to the country "if no change of direction materializes."
But the Palace official said the recommendations were "unnecessary."
"The Guardian's call for economic sanctions by foreign countries on the Philippines is uncalled for. Threats of withdrawal of development aid and other forms of assistance are totally unfounded," Andanar said.
"The President remains undaunted as he will never compromise the dignity of the nation for foreign aid. There is an enormous drug problem in the Philippines and he is trying his best to keep the country from becoming a narco-state," he added.
Andanar also cited polls that showed trust in the President remained high.
"We hope that other countries will treat the Philippines as a sovereign nation and with mutual respect," the Palace official said.