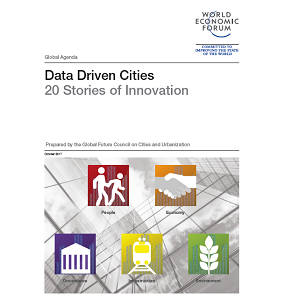 Data Driven Cities: 20 Stories of Innovation
November, 2017
The Fourth Industrial Revolution is set to erupt in cities throughout the world. Bits are meeting bricks as the internet enters the spaces we live in, becoming the Internet of Things. The results will impact most aspects of our lives, raising questions of urgent concern. Which dimensions of cities will be most affected? What will be the impact on citizens? How should urban policy change? And, most importantly, how can cities prepare for looming disruptions and opportunities?
This report by the World Economic Forum's Global Future Council on Cities and Urbanization looks at these questions through a very specific lens: data. The convergence of the digital and physical worlds is producing an immense amount of information, as much information was created in 2016 as in all of previous human history. Citizens leave their digital trace just about everywhere they go, both voluntarily and involuntarily. Each phone call, text message, email, social media post, online search and credit card purchase is recorded and stored in the cloud. When cross-referenced with each user's geographical location, data harnessed at this scale offers a means of describing, and responding to, the dynamics of the city in real time.
Data can be used to improve the experience of the built environment – whether by public entities, large corporations, startups, or private citizens. Using data, we can better understand the digital world in ways that enable us to transform physical space. We can develop solutions to tackle some of the most pressing issues – from energy to waste, from water to mobility, from urban design to citizen participation. The stories presented in this report are classified into five themes: people, governance, infrastructure, economy and environment. They provide a glimpse of the impact of the Fourth Industrial Revolution on cities through the unprecedented lens of data – arguably, our newest urban common.
View PDF