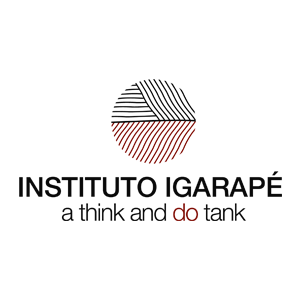 "Climate change could force hundreds of millions of people to move," warns Igarapé Institute in a new Global Futures Bulletin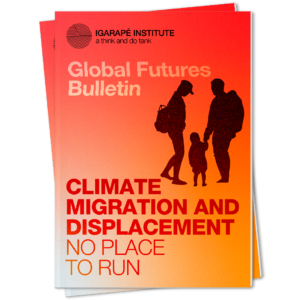 A new report from the Igarape Institute delivers a snapshot of the
scope and scale of the migration and displacement challenges ahead
Rising temperatures and extreme weather are increasingly determining where and how people live. Heat waves, droughts, forest fires, hurricanes, and storms can trigger sudden evacuations and displacement. Climatic stresses such as drought, declining water tables, and sea level rise are increasingly shaping patterns of migration.
While there is growing awareness of the scope and scale of climate change, including from the Intergovernmental Panel on Climate Change (IPCC), responses to prevent and prepare for displacement and migration from national governments, international agencies, the private sector, and civil society are falling dramatically short of what is needed. A new report from the Igarape Institute – Global Futures Bulletin – No Place to Run –  provides a snapshot of the scope and scale of the migration and displacement challenges ahead. Launched November 14, 2022, the report highlights the complex relationships between a  changing climate, social and economic vulnerability, and patterns of migration and displacement.
No Place to Run explores global, regional, and national efforts to mitigate climate-related risks and support adaptation to increasingly frequent and intense shocks and stresses. Almost 60 million people were displaced by climate change around the world in 2021, far more than the number uprooted by armed conflict. Between 216 million people and perhaps as many as 1.2 billion could face escalating pressures by mid-century to abandon their home countries due to rogue weather-related stresses, ranging from heat waves to rising sea levels. The burden is falling disproportionately on the developing world, with as many as 86 million at risk of being torn from their homes by mid-century as a result of climate change in  Sub-Saharan Africa, 49 million in East Asia, 40 million in Southeast Asia, and 17 million in Latin America.
"Public and private investment in climate adaptation and mitigation is still far less than what is needed. Climate change could force hundreds of millions of people to move, especially among lower-income settings that are most vulnerable", says Igarapé Institute's co-founder and president Ilona Szabó.
Climate shocks and stresses demand rethinking policy priorities. Early investment in prevention and preparedness is far more cost-effective than managing large-scale climate-related displacement and migration. No Place to Run describes how global, regional, and national support for early warning systems, nature-based solutions and the promotion of resilience in at-risk communities are all essential.
For interviews with report authors, please contact press@igarape.org.br.
About Igarapé Institute:
The Igarapé Institute is an independent think-and-do tank focused on public, climate, and digital security and their consequences for democracy. Its objective is to propose solutions and partnerships for global challenges through research, new technologies, communication, and influence on public policy making. The Institute works with governments, the private sector, and civil society to design data-based solutions. Igarapé was awarded the best Human Rights NGO by Instituto Doar in 2018 and the best think tank on social policy by Prospect Magazine in 2019.