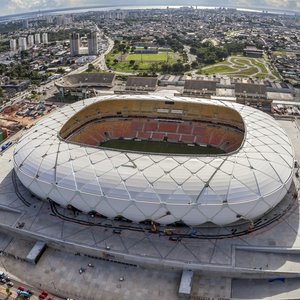 Brazil police may be to blame for 35 execution-style killings over weekend
Detectives in Manaus are investigating whether police death squads or criminal gangs were involved in a rash of execution-style killings that left 35 people dead in just three days.
As the authorities flooded the streets with officers to reassure a nervous public, city officials were forced to admit that the police themselves may have been responsible for the worst weekend of homicide in recent memory.
Detectives suspect the wave of killings may have been sparked by the murder of military police sergeant Afonso Camacho Dia, who was shot and robbed as he left a bank with more than £10,000 ($15,631.95) in cash on Friday.
This was followed on Friday evening and Saturday with a burst of almost two dozen executions by gunmen wearing balaclavas and riding motorcycles. By Monday morning, 35 people had been shot and killed. Eight of them had a criminal record.
A alternative hypothesis links the killings to the murder in prison of a senior gang leader. Police chiefs said they were exploring both possibilities.
"We think it could either be related to the death of the sergeant, making these revenge killings, or a fight between rival gangs, which may have started in prison and spread to the city. We can't discard either hypothesis, and we're investigating both possibilities," said the general director of the civil police, Orlando Amaral.
Sansha Sodré of the Public Security Bureau said detectives have identified a suspect in the sergeant's death, but they were still trying to work out which of the other homicides were related.
"Based on the distances between neighbourhoods where the murders were committed, we estimate that four different groups were involved. What we are trying to discover is whether these four groups were acting in coordination or separately."
Manaus, which hosted England during last year's World Cup and will stage Olympic football matches next year, is far from the most dangerous city in Brazil. But the state capital of Amazonas has seen a near doubling of annual homicides since 2008, partly related to the increased trafficking of narcotics through the Amazon.
But public security forces are also often responsible. Although Brazil has a population that is a third smaller than that of the US, it has almost five times as many killings by police.
Newspaper reports indicate that the bullets used in many of the weekend killings in Manaus were the same calibre used by the police. The attorney general of the state of Amazonas (MPE-AM), Fabio Monteiro, said the evidence pointed to the existence of a death squad.
He has called together representatives from the different police forces and government officers to coordinate a response to what he described as a "troubling and unacceptable" number of deaths.
The Guardian