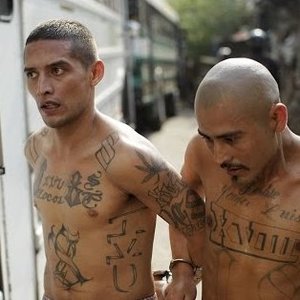 The gangs that cost 16% of GDP
05/21/2016
On the 15th day of each month a bus driver in San Salvador tucks a small package wrapped in a black plastic bag under his seat and sets out on his route. At a predetermined spot between the hillside slum where the route begins and the bustling urban street where it ends, two teenaged boys in baggy clothes board the bus, retrieve the package and hop off. They will deliver the bag—which contains $550 in cash—to the Mara Salvatrucha, one of El Salvador's main gangs. Similar exchanges take place on most bus routes throughout the country.
Such extortion is an unavoidable feature of life in El Salvador. A vast, meticulously organised network touches every business, from kerbside tortilla-sellers to multinationals. Large stretches of country, including the centre of the capital city, are controlled by the Mara Salvatrucha gang and two factions of Barrio 18 (see map). Salvadorean authorities estimate that 60,000-70,000 people belong to gangs and that half a million more—relatives, business partners, corrupt politicians and police—are financially dependent on them.
Salvadoreans pay $756m a year, about 3% of GDP, to gangs, according to a study by the country's central bank and the UN Development Programme. El Salvador's shockingly high murder rate is largely due to wars between them for control of territory (see chart). The study estimates that the total cost of violence, including the amount households spend on extra security and the lost income of people deterred from working, is nearly 16% of GDP, the highest level in Central America.
El Salvador's gangs have neither the wealth nor the political clout of Mexico's drug-traffickers (nor of their Colombian peers in the late 1980s). But many people fear that their influence will grow. Gangs may now be using the money harvested from extortion to build up capital, warns Alex Segovia, an economist and onetime adviser to Mauricio Funes, El Salvador's president from 2009 to 2014. If so, they are likely to become more entrenched, to infiltrate legitimate businesses and to wield more power over various levels of government and the police.
Today's gangland has its origins in Los Angeles, where the Mara Salvatrucha and Barrio 18 formed and from which they were deported by Bill Clinton's administration in the 1990s. Their early Salvadorean scams were modest. La cora involved shaking down merchants for a quarter-dollar at a time. Francisco Flores, El Salvador's president in the early 2000s, responded with a "mano dura" (iron fist), locking up thousands of gangsters, separately by gang, which increased the prison population by half.
Prisons became "24/7 gang meetings", one gangster told José Miguel Cruz, a political scientist. The gangs' leaders began co-ordinating their activities nationwide, plotting revenge against their captors and vying with one another for dominance. Viejo Lin, a leader of Barrio 18, issued an order to "go to war". Its rivals responded. "We needed money to buy guns to protect ourselves from the police and from los números [Barrio 18]," said a member of Mara Salvatrucha, who was imprisoned under mano dura.
Extortion, which requires nothing more than muscle and a mobile phone, was the obvious way to make money. "Colombia has drugs, but the only resource El Salvador can exploit is its people," says Mr Cruz. The 12-year war between El Salvador's right-wing government and leftist guerrillas, which ended in 1992, had left ex-combatants without work, assault weapons without proper oversight and tens of thousands of Salvadoreans accustomed to taking orders from guerrillas or local security forces. The emerging extortion networks did not lack manpower.
With buses, the involuntary partnership begins when a "neighbourhood kid approaches you with a ringing mobile phone", says the route's "negotiator". On the line is a gang leader, calling from jail to discuss la renta. At first, the negotiator simply paid the Mara Salvatrucha, the gang that controls most of the territory through which the route passes. But in 2014 the caller was from Barrio 18, which controls the hillside area that abuts the route office, where 30 buses spend the night. The zone was in dispute, the gangster pointed out. He dropped the name of a recent murder victim, and "offered to make sure my drivers stayed safe, for a small contribution", the negotiator recalled.
He hung up and ignored subsequent calls, until one night the route office was machinegunned, nearly killing a bus driver who was taking a shower. Since then, the negotiator has paid both gangs. The $350 for Barrio 18 is slipped into the apron of an old woman who climbs the hill with a wooden cane on the first Friday of each month.
The negotiator says the bus route is lucky to pay just two gangs. Others pay up to four (the two factions of Barrio 18, which has split, and two autonomous "cliques" of the Mara Salvatrucha). A client who owns 32 minibuses pays roughly $1,500 per bus per year—about 3% of revenue—to three gangs, an expense that appears in the account books as "special collaboration". That does not include perks, like Christmas "bonuses", excursions to the beach for gangsters and their families and pocket money that couriers swipe from drivers' coin boxes.
Taxation without representation
A tough negotiator can bargain down la renta: Barrio 18 demanded $1,800 at first for the old lady's packet. But those who refuse to pay can expect no mercy. In 2015, 93 transport workers were murdered and 134 buses were attacked. Since 2004 gangs have murdered more than 1,000 transport employees. El Salvador's transport sector, which includes taxis and pickup trucks as well as buses, paid out an estimated $26m to gangs last year. The proceeds mainly go to supporting locked-up "homies" (lingo from Los Angeles days), paying footsoldiers and buying arms.
Transport is the most visible victim, but extortion spreads far beyond it. Gangsters control the entrances to urban slums, checking identity cards and demanding payment from residents. Their presence in wealthy neighbourhoods like the Zona Rosa in San Salvador, known for its expensive restaurants and shopping malls, is harder to spot but no less lucrative. Small and medium-sized businesses suffer most. The National Council of Small Businesses, which has more than 10,000 members, says that 79% make extortion payments but only 16% report the crime. Ernesto Vilanova, the group's president and the owner of a beach guesthouse, says business owners pay $30m to gangs and spend $140m a year for private security. Extortion forces seven to ten shops a week to shut down, the council estimates.
Bigger firms can afford more security and summon help from the government. La Constancia Industries, El Salvador's largest brewing and bottling firm, closed its Agua Cristal plant in March, cutting off hundreds of thousands of households from their main source of potable water. The company blamed gang violence in the vicinity, which may have been triggered by a dispute over protection payments. Within days, the government sent police and soldiers to guard the factory.
The number of reported cases of extortion dropped from more than 4,500 in 2009 to around 2,900 in 2015. That is probably because few cases are prosecuted, and many Salvadoreans have come to see extortion as inevitable. Rather than diminishing, the extortion racket is mutating, believes Allan Hernández, who leads the attorney-general's specialised crime-fighting units. The transition started in 2012, when a truce between gangs and the government cut El Salvador's murder rate in half at the price of tolerating continued extortion and other crimes. Critics of the policy, like Mr Hernández, say it gave gangs legitimacy. "You see the government sitting down with them…You see the churches sitting down with them," he laments. The result: "The line between the authorities and the delinquents became blurry."
That between gangs and legitimate enterprise may also be fading. Juan Flores, a former mid-level member of the Sureños faction of Barrio 18, says it has invested proceeds from extortion in nightclubs and other businesses. Recent court cases have revealed gangs' business dealings with mayors and entrepreneurs. One showed that a notorious leader of the Mara Salvatrucha, Chepe Furia, rented out his dump truck to the mayor of a town on the border with Guatemala and employed local police officers. So far in 2016, five police officers have been arrested for extortion. Some analysts worry that gangs will become full-scale drug-trafficking networks to rival those of Mexico, Honduras and Guatemala. "As they grow they'll turn into true mafias," says Rodrigo Ávila, a former director of the national police.
Budding alliances between gangs and the economic and political elite will make dismantling the extortion networks harder. Since the breakdown of the truce between gangs and the government in 2014, the authorities have sought to regain control of territory by using such means as evicting gangsters with rapid-response battalions and putting imprisoned leaders in solitary confinement. A better approach, say human-rights groups, would be to provide actual and potential gang members with skills and jobs.
In a country where a quarter of people aged 15 to 29 are neither working nor in school, that is hard. The government has spent little money on programmes to employ gangsters or youngsters at risk of becoming one. It has shut down most of the pilot projects from the truce era, like bakeries and chicken farms run by former gang members, which in some places reduced extortion on a local level. A law that would provide public money to support gangsters who want a way out has been stalled in the legislature for six years. "It's not popular to talk about gang members as humans," says Henry Campos, a former vice-minister of security who helped draft the legislation.
Rodrigo Bolaños, who manages one of the few businesses that openly employ ex-gangsters, hopes the private sector will solve the problem. His factory, League Central America, produces varsity-themed sweatshirts, boxer shorts and the like for universities in the United States and Canada. It employs 550 people with disabilities, addictions and other problems, including around 40 former gang members. "There has to be a shift in the mentality of business owners," says Mr Bolaños. He hopes to persuade 40 enterprises to adopt his "inclusion model", putting 25,000 people, among them ex-gangsters, to work over the next five years.
But even the inclusive Mr Bolaños is careful about whom he hires. Mr Flores, the ex-Sureños gangster, whose back, chest and arms are scattered with tattoos and scars from bullet wounds, became an evangelical Christian after he left prison in 2010. Such a religious awakening is the only reason for leaving a gang that its bosses will accept, and a necessary qualification for employment as far as Mr Bolaños is concerned. "We take them when they're already decontaminated," he says.
Mr Flores now earns $245 a month, and gets such fringe benefits as subsidised food, health insurance and English classes. It takes more than just a job to replace the sense of belonging that gangs give their members. "You're safe, your homies take care of you and there's a sense that you're in it together, for better or for worse," says Mr Flores. For many young Salvadoreans, the prospect of life outside a gang is even more forbidding than the violent routine within one. "If there were more dignified alternatives," says the born-again garment worker, more gangsters would leave.