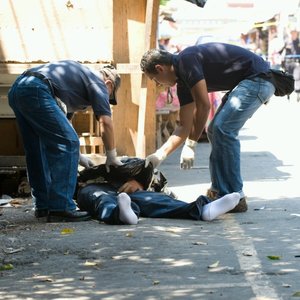 8 de February de 2016
In
Op-eds
San Salvador, not Caracas, was the world's most murderous city in 2015
In the world's violence sweepstakes, El Salvador and its capital city, San Salvador, are the tragic victors. The city registered the highest homicide rate in the world in 2015. The number of murders almost doubled when compared to 2014. Specialists blame the collapse of a gang truce and the rise of paramilitary death squads. It is conceivable that San Salvador's murder rate exceeds the violent death rate in many of the world's most vicious armed conflicts.
The figures are chilling. El Salvador's official reported national murder rate in 2014 was 61.1 per 100,000. That same year San Salvador's rate was around 119.2 per 100,000. Official government sources indicate that the rate shot up to around 103 murders per 100,000 in 2015. And in 2015, San Salvador's homicide rate sky-rocketed to 199.3 per 100,000 according to local sources there.
There is a growing controversy over the numbers. Specifically, a Mexican think tank called Seguridad, Justicia y Paz listed San Salvador's murder rate as 108.54 per 100,000. But it's prediction was based on an aggregation of 14 municipalities rather than just the municipality of San Salvador thus lowering the overall estimated homicide rate. More problematically, their estimate was calculated using data for January to August 2015. The group then estimated the remaining 4 months based on annual national estimates to round out the figure. They neglect the fact that the last few months of 2015 were especially murderous.
The same Mexican organization recently cited Caracas (with a homicide rate of 119.87 per 100,000) as the most violent city in 2015. The group's methodology was suspect at best, and was not surprisingly rejected by the Venezuelan authorities. Their estimate was rendered on the basis of a sample drawn from a morgue servicing the capital and suburbs. It appears to include both intentional and some unintentional homicide, including car accidents. Local researchers associated with a violence observatory in Caracas believe that the homicide rate increased by 20% between 2014 and 2015.
There are only a small number of other cities that have managed to exceed San Salvador's homicide rate in recent history. Ciudad Juarez in Mexico hit a homicide rate of 275 per 100,000 in 2010 before murders dropped precipitously. The Igarapé Institute and CIDE in Mexico conducted empirical research there to understand why homicide then fell dramatically. Likewise, Medellin reached a total of 266 homicides per 100,000 in 1991 but then saw the rates plummet to below 30 per 100,000 by 2015.
The homicide rates in these Latin American cities rival the number of conflict deaths per 100,000 in some of the world's most violent wars. The methods for determining conflict deaths are of course different than those for counting homicide. That said, it is telling that Aleppo (Syria) exceeded 220 conflict deaths per 100,000 people in 2015, and the rate is likely higher today. Likewise, Bangui, the capital of Central African Republic, reached about 135 conflict deaths per 100,000 in 2013.
The measurement of lethal violence – whether homicide or conflict death – is an imperfect science. Nevertheless, careful measurement is essential to generate a true accounting of the burden of violence around the world. It is a political and moral imperative. El Salvador is suffering from a major crisis that is tantamount to outright warfare. Guatemala, Honduras, and Venezuela are not far behind. An accurate measurement of the problem is the first step to doing something about it.
By Robert Muggah, research director of the Igarapé Institute, and Katherine Aguirre, researcher.
Opinion editorial published in 8 February 2016
Open Democracy