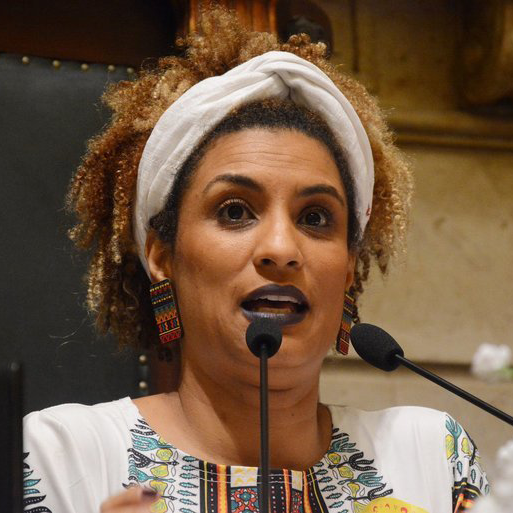 Killing of Rio de Janeiro Councilwoman Critical of Police Rattles Brazil
15/03/2018
As published on the New York Times
RIO DE JANEIRO — On the eve of her killing on a downtown street on Wednesday night, a Rio de Janeiro councilwoman suggested that the death of a young man earlier in the week had been the latest act of police brutality.
"How many more must die for this war to end?" Councilwoman Marielle Franco wrote on Twitter.
The death of the young man, Matheus Melo, 23, received modest news coverage. He was, after all, a poor black man in a city where scores of poor black men are killed each year. Many die at the hands of the police, without much, if any, consequence.
Ms. Franco's killing shattered the cavalier attitude that prevails in much of this megacity in the face of rising violence.
Shortly after 9 p.m. as the councilwoman was heading home from a meeting about empowering black women, assailants sprayed her car with bullets. They killed the 38-year-old rising political star and her driver, Anderson Pedro Gomes.
The killings come nearly a month after President Michel Temer signed a decree giving the military vast powers to restore order in Rio de Janeiro State. It was the first time a Brazilian leader has used a constitutional provision that gives the military primary responsibility for security in a state since the return of democracy in the mid-1980s.
Ms. Franco, who was elected to the City Council in 2016, had been a vocal critic of the measure, saying that it threatened to raise bloodshed without addressing the root causes of violence. In recent days, she was appointed to play a key role on a council commission tasked with conducting oversight of the military intervention.
As of Thursday afternoon, no one had been taken into custody in connection with the shootings. Ms. Franco appeared to have been shot by people who had been following her movements, according to local news reports. The assailants pulled up in a car and opened fire at a tinted window behind which Ms. Franco was seated, those reports said.
Ms. Franco grew up in Maré, a district in northern Rio de Janeiro that is among the largest in the city's constellation of favelas, largely impoverished districts that were initially settled by squatters. She gained prominence as a human-rights activist, arguing that entrenched inequality and a trigger-happy police culture were at the root of the epidemic of violence that has afflicted the city for generations.
She was elected to the City Council with more than 46,000 votes, a remarkable showing for a fresh face on a ballot. Ms. Franco was the only black female representative and one of seven women on the 51-seat council.
"She broke barriers that many black women in the periphery thought were intractable," said Ilona Szabó, executive director of Igarapé Institute, which studies public safety policies. "She represented hope for so many women who never felt like they had a voice."
Ms. Franco's death comes amid rising criticism of the military intervention in Rio de Janeiro. On Tuesday, United Nations human rights officials issued a statement expressing "profound concern" about the intervention, which they warned could lead to human rights violations.
"Governments must limit to the greatest extent possible the use of the armed forces to address internal disturbances, since the training that they get is geared toward defeating an enemy militarily rather than protecting and controlling civilians," the statement said.
There were 6,731 violent deaths in Rio de Janeiro State in 2017, a 7.5 percent increase from the previous year. The vast majority of the killings occur in impoverished urban areas that are hubs of a thriving drug trade.
President Temer on Thursday called Ms. Franco's killing "inadmissible" and an "affront to the rule of law and an affront to democracy."
He said it stiffened the government's resolve to step up efforts to pacify Rio de Janeiro.
"These gangs will not kill our future," Mr. Temer said in a videotaped statement.