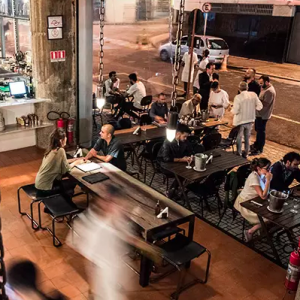 Hip crowd gets São Paulo's heart beating again
An influx of eateries and artistic businesses is helping to sweep away decades of neglect and decay
13/03/2018
Originally published on the Financial Times
It is a Friday night in central São Paulo and the terrace at Orfeu, a restaurant-cum-club, could be New York's Greenwich Village in the 1980s. Amid the high-waisted jeans, shoulder pads and David Bowie booming out of the speakers, there is a feelgood factor that, arguably, is stronger than at any time in recent memory in this part of the city.
"The centre is starting to roll," says Lívia Chaves, manager of Orfeu, which opened last November in a former cash exchange in the Vila Normanda building, between Edifício Itália, by German Bauhaus architect Franz Heep, and Edifício Copan, the spectacular wave-shaped building designed by Oscar Niemeyer in the 1950s and a citadel in itself.
By the early 1990s the area had deteriorated and been largely abandoned to homeless people, pimps and drug dealers, including in Copan's apartments. "The owners left; they rented their units at any price," says Affonso Prazeres de Oliveira, who has been Copan's administrator since 1993. "Let's say, the selection of tenants was not very rigid as it is today — we had everything."
Things have improved, says Mr Oliveira, who has lived in the area since 1963. These days, homeless people and transvestites rub shoulders with hipsters and restaurateurs. "Today, the young clearly see the virtues of living in the centre," says Paulo Mendes da Rocha, an architect whose studio faces Copan. "They are occupying what others foolishly abandoned."
The city centre has been regenerated over the past decade, with an influx of businesses run by young people. These include Pivô, a non-profit art space and studios with a trendy Mexican restaurant by its entrance, and the pioneering Bar da Dona Onça, which has been pulling in 12,000 customers a month.
"This area used to be quite marginal. Now it is popular," says Janaína Rueda, Dona Onça's founder and chef, explaining how "people of all social strata and ethnic diversity" can be seen on the streets. She and her husband, chef Jefferson Rueda, moved into an apartment in Copan with their two children, and have recently been investing in the area, with two other restaurants.
Centro has been the city's heart since São Paulo was founded by Jesuits in the 16th century. The skyline today contains such landmarks as the Edifício Martinelli, Brazil's first skyscraper, completed in 1934, and the Banespa Building (1947), São Paulo's answer to New York's Empire State Building.
Wealthier pockets have since developed in other areas, such as Jardins, or hipper ones in Vila Madalena. Shopping malls and luxury high-rises with helipads have mushroomed around new financial districts along the thoroughfares of Avenida Paulista or Avenida Brigadeiro Faria Lima, or further down the Pinheiros river, in areas such as Brooklin, drawing people away from a city centre long in decline.
Examples of the decay include "Craco­lândia", an inner-city enclave known for crack addiction and endless sprayed graffiti (pichação) — until the current mayor ordered a clean-up. But the centre is still where the city's best public transport infrastructure and most poetic buildings are to be found.
"The centre plays a fundamental role in the rebalancing of urban dynamics. The most important factor for urban development is people," says Leonardo Castro, director at SP-Urbanismo, the municipal planning office. "It has the fundamental role of reorganising urban flows, has an abundant infrastructure and needs to be recognised and rediscovered as a living space." The centre has some of the most vibrant immigrant communities of Africans, Asians and Latin Americans but remains a hotspot for theft, according to a survey by newspaper Estadão based on data from the state's public security secretariat. Across the city, homicides have fallen from a high of 52.6 per 100,000 inhabitants in 1999 to just 6.1 per 100,000 today, according to Robert Muggah, co-founder of the Igarapé Institute, a security think-tank.
The fall in violent crime has led to old spaces being revived. The Banespa Building reopened in January after being renovated by its owner, banking group Santander. It was renamed Farol, or lighthouse, and has a café, an exhibit by Brazilian artist Vik Muniz, a skate park and a loft for rent. "Every day we are sold out," says Paola Sette, Farol manager. The centre of São Paulo needs to be recognised and rediscovered as a living space Leonardo Castro, director at SP-Urbanismo
A text accompanying an exhibit by US artist Jean-Michel Basquiat at the Centro Cultural Banco do Brasil reads: "The current vibrancy of São Paulo has prompted comparisons with the atmosphere of New York during the 1970s." That resonates with Fernanda Brenner, founder and artistic director of Pivô, for whom the centre "has the city's most cosmopolitan mentality".
"The centre is unbeatable in terms of location and infrastructure and also of diversity and richness," says Sérgio Dávila, executive editor of Folha de S.Paulo, one of Brazil's biggest newspapers. "Youngsters are opening bars and restaurants that become popular, and then real estate developers follow suit."
But as property interests encroach, restaurateur Ms Rueda is fearful of gentrification, which could displace the culture and community that drew her here. "The last thing we need is for downtown to become elitist," she says.
Tonight, though, it has gone 2am and things are still going strong all over Centro, especially for Hasan Zarif. The Brazilian-Palestinian owns Al Janiah, a bar and self-styled "militant" cultural centre in the former Italian enclave of Bixiga. To a thumping drum soundtrack a crowd of Lebanese, Jordanian and Congolese immigrants mingle with urban hippies and young intellectuals.
"The centre is a place of gathering; it has that special energy," says Mr Zarif. "No other neighbourhood of São Paulo has this."