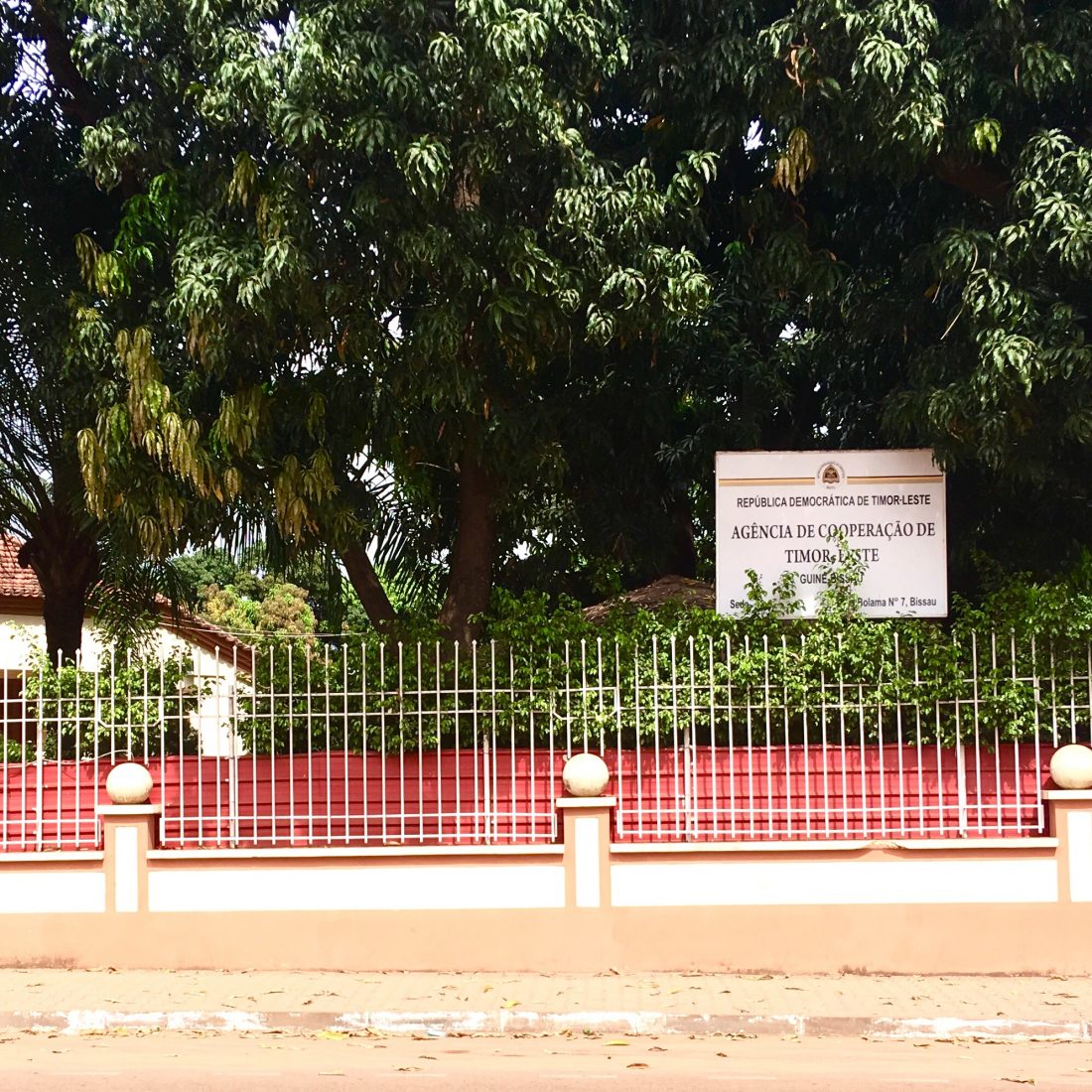 Fragile-to-Fragile Cooperation and Conflict Prevention
East Timor Initiatives in Guinea-Bissau
Adriana Erthal Abdenur, in Bissau
Can conflict-affected states effectively support one another in overcoming recurring instability and promoting development and sustaining peace?  Timor-Leste's growing cooperation with Guinea-Bissau suggests that, although incipient, fragile-to-fragile (F2F) cooperation may become a promising pool for conflict prevention innovation.
So-called "fragile states" traditionally have been treated by Western actors and multilateral institutions as mere recipients of aid rather than cooperation partners, much less as positive agents for change.  However, in 2010, a number of conflict-affected countries came together through the g7+, an intergovernmental organization that seeks to promote peacebuilding and statebuilding in countries featuring acute crises (whether related to war or natural disasters) or in post-conflict situations.  All the founding members had encountered significant difficulties in meeting the Millennium Development Goals (MDGs) and found themselves constantly pigeonholed into the "fragile state" category—or, even worse, given the hopeless label "failed state."
In banding together to brainstorm solutions for peace and development, the g7+—which now encompasses 20 member states from Asia-Pacific, Africa, and the Caribbean—in essence began inverting the negative connotation of the "fragility" label.  The group is premised on the idea that such countries can draw on similarities in their experiences in order to exchange experiences and promote cooperation for peace and development. The group's cooperation has been guided not only by Sustainable Development Goal 16 ("Promote Peaceful, Strong and Just Institutions"), but also by the New Deal for Engagement in Fragile States, an agreement signed at the Fourth High Level Forum on Aid Effectiveness in Busan, South Korea, in November 2011. In a nutshell, the New Deal calls upon fragile and conflict-affected states, development partners, and civil society to improve development policy and practices in those countries by working toward five Peacebuilding and Statebuilding Goals (PSGs): legitimate politics, justice, security, revenue and services and economic foundations.
How innovative is this cooperation? The discourse emerging behind this configuration suggests that, to begin with, simply removing the element of geopolitical meddling by external actors may render cooperation more legitimate and effective.  As the g7+ policy paper on Fragile-to-Fragile Cooperation stresses, member states draw on a "strong sense of solidarity […] which is based not on geopolitical interest, but on the common desire for all countries to move out of fragility."  In this aspect, F2F has common elements with South-South cooperation (SSC), especially the claim that these initiatives are marked by greater horizontality and mutual benefit when compared with aid.
This rationale helps to explain one dimension of SSC in Guinea-Bissau that has received little attention by researchers and policymakers: cooperation with East Timor, which is itself a recipient of aid and SSC but also home to several innovative strategies for state-building. Along one of Bissau's leafy main avenues, not far from the city center, the East Timor Cooperation Agency operates out of a white-washed-painted house. The building embodies the commitment made to Guinea-Bissau by East Timor—whose foreign policy is partly anchored on its championing of the implementation of SDG16—and that has taken on three dimensions: advocacy, resources, and technical cooperation.
First, East Timor officials have repeatedly exhorted the international community to continue supporting Guinea-Bissau, which they call a "brother country."  While East Timor is not the only country to play this role (Brazil has long championed Guinea-Bissau at the UN and Community of Portuguese Language Countries, CPLP), this call to attention benefits from East Timor's growing visibility in security and development debates as a post-conflict country.  The role is welcomed by Bissau-Guineans especially in light of the chronic "donor fatigue" that has beset external actors frustrated by the country's vicious cycle of political instability, including the latest coup (in April 2012) and the continuing political impasse over the Conakry Agreement; officials stress that Guinea-Bissau was the first African country to recognize Timorese independence. These ties were also strengthened cemented by former Timorese President José Ramos-Horta's period as Secretary-General's Special Representative and Head of the UN Integrated Peacebuilding Office in Guinea-Bissau, UNIOGBIS. In the aftermath of the 2012 coup, East Timor went against the grain at the CPLP, which denounced the government overthrow and suspended cooperation with Guinea-Bissau, and intensified its support.
At the UN, East Timor officials and diplomats have used high-visibility events to call attention to Guinea-Bissau  For instance, in January 2017, at the High-Level Meeting on Building Sustaining Peace, in New York, the president of East Timor's ministerial council, Agio Pereira, stressed that Guinea-Bissau needed more attention from the international community.
The second form of commitment has entailed the transfer of some financial resources. East Timor has helped to fund some public services; in 2014, it stepped in with a USD6 million check to pay one month of salary to government workers in Guinea-Bissau. In March 2015, at the International Conference for Guinea-Bissau in Brussels–meant to mobilize resources for boosting stability and development in the country—East Timor pledged USD1.9 in support of the "Terra Ranka" "Strategic and Operational Plan for 2015-2025" presented by the government of Guinea-Bissau. Although the Terra Ranka program has failed to take off (largely due to the political impasse,) as part of this pledge, in February 2016, Timor–Leste provided 225,000 euros (around USD270,000) to support the organization of a national reconciliation meeting in Guinea-Bissau.
The third dimension involves technical cooperation.  East Timor has provided direct financial as well as technical support for the electoral process in Guinea-Bissau. There have also been discussions and efforts in areas such as defense, especially around Security Sector Reform (SSR)—an area in which East Timor has undergone a variety of experiences, both positive and negative.
Although this F2F cooperation has its limitations—among them, these ties face financial constraints and some contestation in light of the impasse in Bissau—East Timor's support to national reconciliation and the potential to create new spaces of knowledge exchange may allow Guinea-Bissau to tap into a rich pool of experiences and solutions for conflict prevention.
Adriana Erthal Abdenur is a fellow at Igarapé Institute.