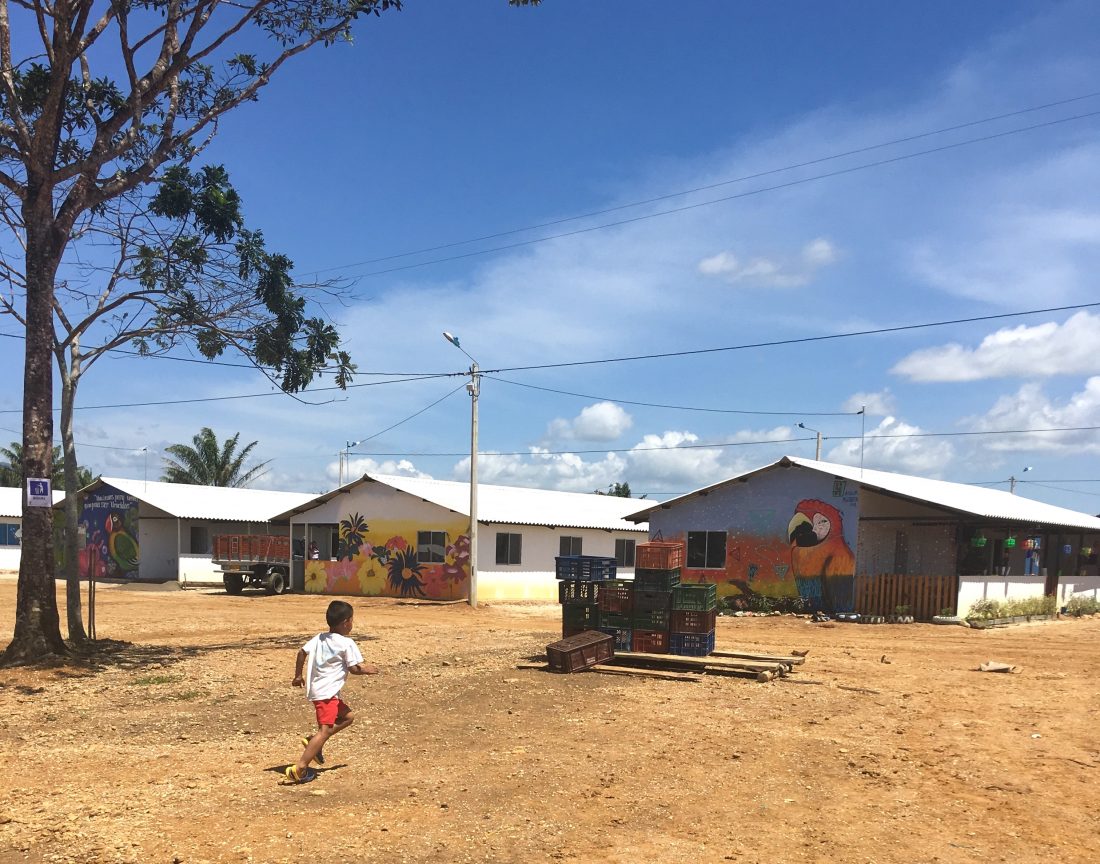 Ex-Combatant Reincorporation and Conflict Prevention
Notes from Colombia
Adriana Erthal Abdenur, in Agua Bonita, Colombia
Nested among the lush green mountains of Caquetá, in the Amazonía region of Colombia, around 200 ex-combatants from the FARC guerrilla group are building a socialist community in the same area where they laid down their arms earlier this year.  Locals know the place as Agua Bonita, but the ex-combatants have renamed it after Héctor Ramírez, a martyr of the Southern Bloc (Bloque Sur)–a FARC subdivision that once operated primarily in parts of Caquetá and neighboring Huila, Putumayo, and Cauca departments.
As soon as we drive past the Army security posts and reach the village entrance—a cheerful welcome sign is mounted on a post—we can see the community hard at work.  Women and men are putting up drywall houses, tending to the pineapple plantation, and working the fish farming tanks they have recently installed.  The village is very simple, but tidy and dignified. Last week a festival brought artists from all over Colombia to paint bright murals on the houses. The images depict the local fauna and flora, guerrilla leaders, and socialist sayings.  There are some weapons in this FARC iconography—the small library has an exhibit of FARC paraphernalia, including ersatz rifles–but the most recurring theme is the word "peace."
In three small classrooms near the plantain grove, former guerrillas study towards their high school degrees and undergo capacity-building workshops offered by national and international agencies.  Ex-combatants who once devoted themselves to arms, ammunition, and open combat now work to reinvent themselves by acquiring new skills in areas such as carpentry, agriculture, and gender issues.
I had last visited the area in March, when the FARC was just starting to undergo the "laying down of arms" (dejación de armas).  Walking along the community's unpaved streets in December, Andrea (not her real name), an ex-combatant I had interviewed during my previous visit, comes out from behind a row of hanging flowerpots to greet me. We cross the path under a blistering sun and duck into a small meeting space.  The walls are bare; the window looks out onto the mountain slopes, dotted with pineapple crowns. Andrea is not much older than me, perhaps in her mid-forties, and—by her own account—spent most of the past two decades commanding guerrillas in the Southern Bloc. She is wearing a bright pink top studded with crystals and jeans; a long ponytail peeks out from underneath her sombrero.  When I ask Andrea what she misses most about guerrilla life, she doesn't skip a beat: Mi fusil.  My rifle.
Andrea and other combatants are not undergoing the traditional routes of disarmament, demobilization, and reintegration (DDR).  Colombian institutions tasked with supporting the transition of ex-combatants to civilian life, including the Agencia para la Reincorporación y la Normalización (ARN), have moved away from the DDR approach; the term, in fact, has become practically anathema here. The ex-combatants underscore that there was no disarmament because the FARC never surrendered, but rather negotiated a deal through which it agreed to give up armed struggle.   The ARN concurs that this represents not just a rhetorical shift, but also the development of social and political spaces—not necessarily centered on physical places like Agua Bonita—through which ex-combatants can be reincorporated into society as a group.  This focus on the collective process contrasts with the highly individualized approach of traditional DDR, which seeks to carry out a "controlled removal" of ex-combatants from military-like structures and support their transition to civilian status.
Both approaches have in common an overarching concern with preventing combatant recidivism, either into dissident groups or into other illegal activities.  In Colombia, given the variety of armed groups—not only FARC dissidents and ELN guerrillas, but also paramilitary groups and organized crime networks—recidivism poses considerable risks for conflict relapse.  The government has had a hard time tracking the ex-combatants; some 250 of them formerly housed at Agua Bonita, for instance, have chosen to leave the place, in many cases returning to their native villages and towns. The peace agreement, after all, does not bind former FARC members to their old encampments in the "normalization zones," or zonas veredales.
Agua Bonita residents have chosen to band together not only because it represents an opportunity to build their vision of socialism in the Colombian countryside (the entire village is run as a collective, and a cooperative is planned), but also because there are serious concerns with personal safety. A number of former FARC have been killed since the dejación de armas.  The ex-combatants are also aware of the experience of the United Self-Defense Forces of Colombia (AUC), a paramilitary that demobilized in the mid-2000s only to see thousands of former members exterminated. In addition, ex-combatants also face legal and judicial uncertainty. Since most had multiple aliases and fake identity cards, they encounter bureaucratic difficulties in obtaining documents, which slows down access to social services. Just as seriously, there has been a delay in the implementation of the special justice system, leading to the arrests of ex-combatants who have been granted amnesty.  These factors help to explain why many have opted to stay, finding some safety in numbers.
Yet staying put is also a lifestyle choice.  Many of these people have spent long years, even decades, living in groups, and they find the idea of returning to "normal" family life unappealing. In Agua Bonita, five ex-combatants are assigned to each house, and they eat meals in a communal space. As Andrea puts it, "What would my life be like, just at home with a husband? I wouldn't last a week."
On the other hand, there are risks to banding together in Agua Bonita.  The economic viability of the village is still up in the air, although some collective projects, including the pineapple plantation and the aquaculture tanks, have already begun.  Since the village is built on leased land, residents remain vulnerable to dislocation. "Are we building houses in the air?," asks Andrea, visibly tense.  Finally, it is unclear how the social stigmas that are often attached to ex-combatants would be affected by the option to build a self-contained community—one that remains relatively isolated from surrounding villages.
The process of reincorporation has begun relatively recently, and the village in Agua Bonita is only two months old.  Yet, without addressing these challenges, questions remain about the conflict prevention potential of Colombia's emerging process of ex-combatant reincorporation.