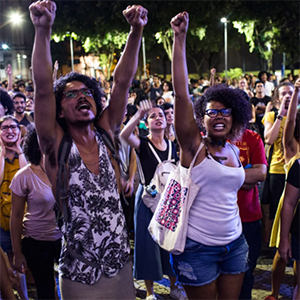 A black female politician was gunned down in Rio. Now she's a global symbol
19/03/2018
By Anthony Faiola and Marina Lopes
Originally published on the Washington Post
RIO DE JANEIRO — Before stepping into her Chevrolet Agile at 9:04 p.m. last Wednesday, Marielle Franco had just done what she did best: fire up a room.
"Let's do this," the 34-year-old politician with the cascading Afro had said as she wrapped up a speech at Rio's House of Black Women calling for black empowerment.
Brazil needed it, she said. Across this troubled metropolis, police brutality and extrajudicial killings were ravaging the slums. Elected last year as the only black woman on Rio's 51-member city council, she had gone after those responsible while reframing the debate in an uncomfortable new way.
In a society that has long seen itself as post-racial, Franco argued, the slaughter was not just a war on the poor. It was also a war on blacks.
Thirty minutes after the gathering, two vehicles approached her white Chevy. "Huh?" she said, according to the testimony of an aide riding in her car, as gunfire crackled. Then nine police-issue bullets bored into her, including four shots to the head.
But if the point was to silence a fast-rising black politician who had taken on corrupt police officers, Franco's apparent assassination has done the opposite. In the days since, Latin America's largest nation has watched in awe as a figure once little known outside Rio has been transformed into a global symbol of racial oppression.
Franco has been honored on the floor of the European Parliament. Crowds have protested her killing and celebrated her life on the streets of New York, London, Paris, Munich, Stockholm and Lisbon. A vigil will be held for her in Madrid on Tuesday.
"Marielle Presente" (Marielle Is Here) has garnered millions of mentions on Twitter and Facebook. From Berlin to Miami to Montreal, mourners who never heard of Franco before last week are borrowing a line from the Black Lives Matter movement: #SayHerName.
"COME ON BRAZIL STAND UP," tweeted the British model Naomi Campbell.
But at home, her death is being viewed in divergent ways, underscoring the racial divisions that many Brazilians contend do not exist here.
Her killers have not been caught. But the federal prosecutor's office in Rio says that the evidence, including the highly professional killing, points to a hit by corrupt police officers. The bullets, authorities say, came from police ammunition stocks. A representative for the civil police would not comment beyond saying the investigation is ongoing.
In some circles, particularly within Brazil's white elite, the killing is being viewed as a heinous act driving home the problem of runaway graft and violence in a city that has long served as the face of Brazil. But it is not being seen as an issue of race.
"Her bloodshed can't be used as an opportune moment to talk about hate," said Ana Amélia, a Rio state senator, who is white. "When you talk about a black-white divide, you are contributing to this division."
But some black and left-wing activists here call that attitude part of the problem. They say it reflects a belief system that pretends race is unrelated to the disproportionate violence suffered by Brazilians of color — especially at the hands of law enforcement.
Underpaid and under pressure, police here are also under threat: At least 120 officers were killed in 2017, including many in confrontations with drug traffickers, according to the Rio-based Igarapé Institute. But last year, 1,124 people died at the hands of police, the highest number in a decade, the institute reports. In recent years, nearly 80 percent of those killed by police were black or mixed-race.
White male politicians here have also sought to bring corrupt police officers to justice. But Franco was targeted, her backers insist, because taking the life of a black woman is less risky in Brazil, especially in a state where only 1 in 10 homicide cases results in a conviction.
As a black, left-wing lesbian, Franco represented an intersection of movements that are coalescing as a result of her slaying. Tens of thousands of Brazilians of every color have taken to the streets in the aftermath of her death.
Some hope that the killing will mark a turning point for black activism — a concept that has struggled to take off in Brazil. The storm of outrage is also carrying more overt racial overtones than Brazilians are used to, including a flurry of tweets under the hashtag #genocidionegro (#blackgenocide).
"A black woman was speaking out and calling for rights, and she was killed because she could be," said Rubia Augusta Gomes, a 38-year-old Afro-Brazilian dancer who on Sunday joined thousands at a march in the violence-ridden Rio slum of Mare, where Franco was born and raised. Some wore stickers proclaiming "Militancy in the name of Marielle."
"It is time to speak out," Gomes said. "It is time to talk about race, because we are the ones suffering."
Thus far, though, few of the protests held in Franco's name have been strictly about race. And there has been little sign of a broader backlash brewing in the densely packed slums, which, for the most part, are not considered hotbeds of political activism.
A 25-year-old Afro-Brazilian nurse attending a "Black Genocide" protest in downtown Rio on Friday said she longed for a larger, more politicized movement. A few hundred people, including left-wing and gay activists, were at the rally, compared with the thousands who have turned out for more general protests.
The nurse declined to give her name, citing fear of police retribution.
"Why am I afraid?" she said. "Because I'm a black woman, and my life is worth nothing here."
Racism in Brazil has a complex history.
The country imported 4 million slaves, more than 10 times the number brought to the United States. In the United States, intermixing of races was discouraged. But in Brazil, where Portuguese settlers were outnumbered by their slaves, it was endorsed as a way to "whiten" the population.
Miscegenation soon became a cornerstone of national identity, with 53 percent of Brazilians now seeing themselves fluidly as black or mixed-race.
"In Brazil, you bump up against this narrative of racial mixture, that black identity or white identity is an import — that the concept of racism was imported by Americans," said Glen Goodman, professor of Brazilian studies at the University of Illinois at Urbana-Champaign.
Critics say that the myth of a post-racial Brazil silences conversations about deep-rooted discrimination and violence.
The numbers, they say, speak for themselves. Every day, 112 blacks or mixed-race Brazilians are killed, according to the Igarapé Institute. They make up 54 percent of the national population, yet 71 percent of all homicides. Between 2005 and 2015, the proportion of blacks and mixed-raced Brazilians killed rose by 18 percent, while the figure for whites dropped by 12 percent.
Franco was a rarity in Brazilian politics: a powerful black woman.
After her childhood in Mare, she took night classes to earn her high school diploma. She gained a full scholarship to the Pontifical Catholic University of Rio, where she was one of two black women studying sociology.
After a close friend was killed by a stray bullet during a shootout between police and traffickers in 2006, she muscled her way into Rio's political scene, a sphere dominated by white men despite the city's ethnic diversity. She was the only black woman on Rio's city council, in a country where there are no black cabinet members.
In 2008, Franco was part of an investigative committee looking into Rio militias made up of former policemen and private security officers that routinely extorted residents for access to gas, cable TV and transportation. The committee found that 118 militias were operating in the city. It indicted 226 people, including 67 police officers.
Franco was also a fierce critic of Rio's 41st Military PoliceBattalion, known as "the death brigade" for the killing and shooting of black youth — and she routinely publicized those killings.
The day before her death, she mourned the loss of Matheus Melo, a young black favela resident who was shot while coming out of a church with his girlfriend, just the latest victim of the multifront conflict among drug traffickers, militias and police in Rio state that has left casualties on all sides.
"How many more people need to die before this war ends?" Franco tweeted.