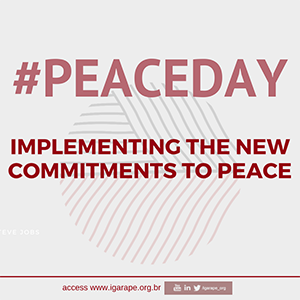 Doubling down on peace
Newsletter nº 8 – Setembro 2017
Doubling down on peace
The Igarapé Institute is firmly committed to conflict prevention and building sustainable peace around the world. The organization draws inspiration on good practice from its own neighborhood. Indeed, Latin America has been a nuclear free zone since 1967 and there are countless experiences of governments resolving international tensions using mediation and other non-violent means. Since 2011, the Institute has worked with successive Presidents of the United Nations General Assembly, the United Nations Peace Support Office, the Department of Political Affairs, the Department of Peacekeeping and a host of regional and national bodies to advance stability and security.  
It is fitting, then, that the Institute actively celebrated International Peace Day on 21 September. And what a day it was! For one, the Institute signed a joint declaration with over 130 other organizations in support of sustainable peace and the newly crafted 2030 Sustainable Development Goals (SDGs). At the same time, Robert Muggah met with the UN Secretary General and the President of the World Bank in New York to launch a new report on conflict prevention that featured research from the Institute. Meanwhile, in Rio de Janeiro, Ilona Szabó discussed SDG 16 during a special show, REP – Geração do Amanhã (by TV Globo) and also hosted a gathering on empowering women and preventing gender-based violence.
Igarapé returns to TED
In September, the Igarapé Institute's research director, Robert Muggah, returned to TED. Robert presented a well received presentation on fragile cities and approaches to improve resilience. He featured new features of the Earth Timelapse data visualization with Carnegie Mellon. He joined other speakers such as Cristiana Amanpour, Naomi Klein, Cat Stevens (Yusuf Islam), Elif Shafak, Margrethe Vestagar, and others. This is the fourth straight year in which Robert has participated at TED, including visits to Vancouver in early 2017, as well as the TED Summit in 2016 and TED Global 2015. The presentation will be coming online soon.
Empowerment of Women
In partnership with the Canadian Consulate in Brazil, Igarapé Institute organized a round table discussion on "empowering women and preventing gender-based violence: a path towards peace". The event was extremely well attended and was transmitted live on Facebook. The gathering assembled Brazilian and Canadian experts and researchers to discuss violence against women and approaches to strengthening female empowerment. Female professionals and experts shared their experience and their work in the area, discussing policies and practices to be nursured and experimented. The full debate is available on Igarapé Institute YouTube channel.
Security and Drug Policy on TV Globo
The Igarapé Institute is continuing to make a positive impact on shaping the public security and drug policy debates in Rio and in Brazil. The Institute is leading a growing network of private sector actors to commit to robust public safety goals. What is more, Ilona Szabó was a constant presence on Globosat channels this month. Ilona participated in programs such as Conversa com Bial, REP 2030, Jornal Hoje, Globo Repórter, Jornal Globo News, and Estúdio i. She discussed the importance of responsible firearms regulation, regulating drugs, the psychological challenges facing police and the damaging consequences of stray bullets.
Conflict prevention in Africa
This month, Igarapé Institute launched a new initiative – Innovation in Conflict Prevention. It is supported by the Canadian government, and is being undertaken in partnership with the Institute of Security Studies in South Africa. The project is focused on identifying data-driven and evidence-based interventions associated with armed conflict prevention. The team is focused on six case studies across Africa, with a particular interest in the Great Lakes, the Sahel and the Greater Horn. Igarapé will be developing peer-review articles, handbooks, an interactive digital platform and stories from across the continent. Theproject page is currently live.
Keep an eye out for
On 11 October, Juan Garzon is presenting new findings on homicide reduction at the OAS annual security ministers summit in Honduras.
From 14-16 October, Robert Muggah is delivering lectures on political economy and conflict prevention to the UN Department of Public Affairs in New York.
On 16 October Ilona Szabó will participate in the Brasil do Amanhã intiative at the Museum of Tomorrow in Rio de Janeiro.
On 18 October, Robert Muggah is giving a keynote on the future risks facing Latin America to EXCRED – including insurance and other investors in New York.
On 24 October, Robert Muggah is hosting a live virtual seminar with Singularity University in San Francisco.
On 25-26 October, Robert Muggah is participating in a joint BPC/Graduate Institute conference on security in Latin America in Rio de Janeiro.
On 26-27 October, Robert Muggah will give a keynote address at the Smart Cities Brazil Summit 2017, in Rio de Janeiro.
From 27-29 November, Renata Giannini is launching a new report – Situações Extraordinárias: a entrada de mulheres na linha de frente das Forças Armadas brasileiras- in Colombia.
On 30-31 October, Ilona Szabó and Dandara Tinoco will launch Instinto de Vida campaign with civil society partners to the governments of Pernambuco and Ceará.