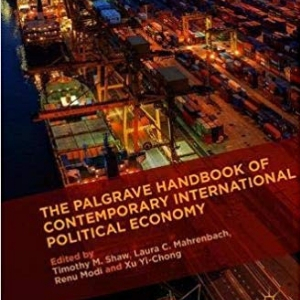 The Palgrave Handbook of Contemporary International Political Economy (Palgrave Handbooks in IPE)
Published 35 years after Palgrave Macmillan's landmark International Political Economy (IPE) series was first founded, this Handbook captures the state of the art of contemporary IPE. It draws on the series' history of focussing on the oft-neglected study of the global South.
Providing interdisciplinary perspectives from scholars hailing from the global North and South, the Handbook illustrates the theoretical innovations and empirical richness necessary to explain today's ever-changing world. This is a world in which the global South and North are not only being transformed by the end of bipolarity and the rise of the BRICS, but also by diverse global crises and growing cross-border challenges. It is a world where human development, governance and security are becoming ever more elusive, where, profoundly altered by the rise of new technologies, the structure of relations between nations itself is changing, becoming increasingly interconnected, both digitally and physically.
Understanding these issues is of critical importance to better comrehend and anticipate current and future global transformations. This Handbook is the ideal primer for all scholars, practitioners and policy makers looking to do so.
The edited volume can be found at https://amzn.to/2P4jFNH