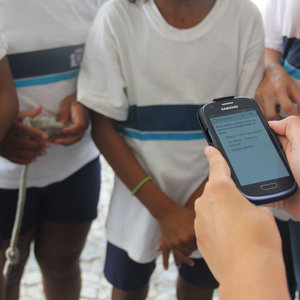 A Mobile App to Measure How Children Experience Violence
July, 2015
Children's perceptions of violence are an essential input when it comes to designing, implementing and monitoring prevention policies and programmes. However, their views and experiences are rarely collected systematically, especially in low-income settings. Now, there's an easier way of filling this knowledge gap.
Developed by Brazil's Igarapé Institute, the Child Security Index (CSI) is an open-source smartphone app which generated considerable excitement on its launch in 2014. It won the Google Impact Challenge prize, was covered by media from the BBC to O Globo, given a platform by TEDGlobal and attracted interest from the World Bank and UNICEF, among others.
The CSI features more than 30 carefully developed questions that practitioners can use to gather information from children aged 8-12 about their perceptions of everyday violence. It enables users to document and visually present spatial and temporal trends in the home, school and community. This information can be used by public institutions, NGOs or other child rights advocates to shape policy and engage in more effective advocacy.
"We know that the way young people perceive violence and experience insecurity is often hidden from view," says Dr. Robert Muggah, research director at Igarapé. "We were already experimenting with new technologies to prevent violence, and we wanted to do something at the local level to help alleviate Brazil's huge burden of violence."
Beginning in 2011 Dr. Muggah started working on a solution with Igarapé researcher Dr. Helen Moestue, an epidemiologist with a decade of experience in public health, child rights and violence. They first prepared a systematic review of the scientific literature on violence against children. From this, they distilled 30 questions that could shed light on how children experience violence. The pair then worked with Igarapé's software engineer Bruno Siqueira to develop the app using Open Data Kit (ODK).
"It's all quite exploratory," says Dr. Muggah. "We rely on many experts from different disciplines – from neuroscience to sociology – to understand many ways in which kids experience violence. Our partners have been absolutely key to refining and testing the tool."
Between 2012 and 2013 the Igarapé Institute received support from Bernard van Leer Foundation to develop the CSI app. By 2014, it was ready to be tested by more than 2,500 participants in Recife, Rio de Janeiro and São Paulo, through NGO partners UFPE/Shine-a-Light, Instituto Bola Pra Frente and Nepsid. Igarapé provides the NGOs with the technology and training, interprets the findings and reports back; the NGOs gather the data and use the reports to test and shape their violence prevention and child care interventions.
Over the next two years, the CSI will be expanded to at least ten cities across Brazil and abroad. Igarapé is testing the app with WorldVision and is in discussions with secretaries for human rights in several Brazilian states. CureViolence has also expressed interest in testing the app in Chicago and New York.
"The CSI is really built around partnerships," says Dr. Muggah. "'Igarapé' is actually a Tupi word for 'small river' or 'channel'. We see our Institute as a channel linking the grassroots to elite decision-makers at the global level. Put another way, we link the small and large bodies of water. The CSI was built and tested in municipalities of Brazil, and we intend to take findings here to the national, regional and global levels."